Absolute Dribble: NBA Week 5 is the Official Lebron Hate Week
by Joseph Murphy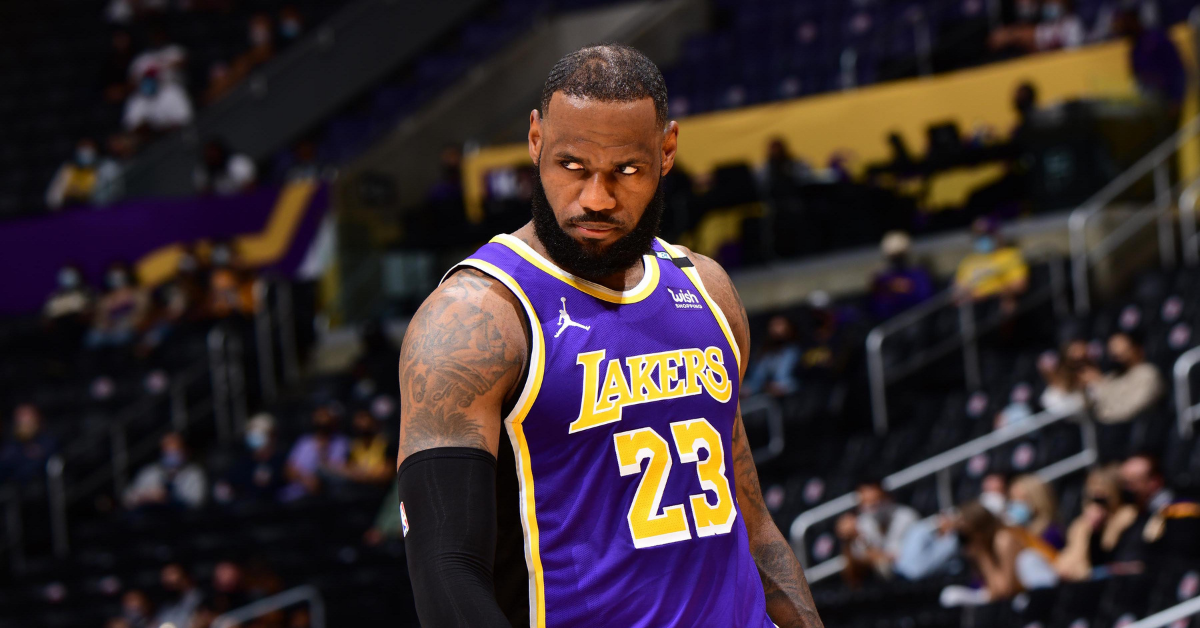 I think it's the inherent jealousy of humanity that makes it so enjoyable to see the best of us falter? Maybe it's something about seeing your own inadequacy in their brilliance that means you don't mind when they're taken down a peg or t1o.
Do you think when settlers discovered Canadian Redwoods they decided just to cut down a couple of the little ones since that was probably all they needed? Fuck no, they went and cut down the big bastards first and decided to make massive boats out of them – I think. So, when it comes to the NBA, there's never been anyone bigger than LeBron, and after returning from injury LeBron has had himself a week.
The pile-on started immediately when Celtics bench warmer Enes Kanter, who has been very openly anti-China this season, posted a pair of shoes that contained an image of LeBron being crowned by Xi Jinping, in response to LeBron's non-committal comments about China made during the 2019 off-season. Kanter then proceeded to wear those shoes in James' return game, which the Celtics won handily. LeBron and Kanter have had their share of clashes but it's mostly been one-way traffic: Kanter pulling classic moves like standing next to LeBron and yelling at him without making direct eye contact. I'm all for this most recent move, purely for the fact that it's taken since 2019 for Kanter to come up with this.
Come his next game and LeBron is out there (unintentionally?) throwing bows and starting another shoving match. The most important thing I've learned from the whole non-event that was the push and shove was that Isaiah Stewart's nickname is "Beef Stew", and I'll be sure to keep track of Mr Stew when he's back from his upcoming suspension.
This all leads to the tantalising opportunity to pile onto LeBron, and certain media members who have made their careers criticising his every move are about to have a field day conducting frame-by-frame analysis of where LeBron's elbow was and when. Just wait for some recently retired player who's trying to break into the media come out and say "he's a dirty player" to try to catch some attention. For my part, I'll gladly join on this dogpile – Jordan's better fuck you.
If LeBron has ever done you any hurt, this week is the time to get one back. Whether it's about China, or Space Jam 2, or you just want to annoy some LeBron fans and say he's old and he sucks now, I encourage you to join the growing chorus of dribblers in LeBron hate week.
Just try stopping Giannis
The Bucks are sitting in the 9th spot in the East, just above .500 with a 9-8 record. Some might call this a poor start for the reigning champions, but both Middleton and Holiday have missed games. Khris with an H is still looking a touch rusty in his return from COVID, yet to crack 20 points in the 3 games since his return. 
In that same stretch, Giannis has decided "fuck this, I'm not losing" and in his last 3 games is averaging 26 points and 16 rebounds, including a 32 point, 20 rebound effort in just 30 minutes against Orlando. That's the NBA equivalent of scoring 5 tries in a half.
Defences used to try and force Giannis into taking his turnaround jumper outside the paint, which was one of his few weaknesses, often clanking badly off the rim. With his back to the basket, he could see fewer passes and if a defender could force Giannis to pick up his dribble they were much less likely to end up inspecting his nuts when he turned the corner and dunked all over them. Too bad for the rest of the league, but he's hitting turnarounds now. 
In a small sample size, Giannis is good for 43% on his left-sided short-range jumpers and 46% at the elbow. Since Giannis made his leap to superstardom, he's been a nightmare to give any space to since it just becomes a runway to the rim. If a defender needs to worry about guarding against a shot at the elbow then the man with the world's strongest body is just going to straight-up bully them. Not to mention that he's basically solved the "Giannis Wall" now too (where 3 guys would form a line across the paint and simultaneously defend him) becoming an advanced enough passer to hit wing scorers or spotting when the wall isn't quite formed and busting through the gap for a huge dunk. 
I'm in the camp that Giannis doesn't need a 3 point shot and if he could, just cancel the league. Maybe only Draymond and Kawhi could defend Giannis right now but if he could extend his game beyond the 3 point line the league would look like the 60s all over again when Wilt Chamberlain was rocking up hungover and scoring 100.
Someone is going to have to try some new gimmick against Giannis, because nothing else is working right now. We won't see that until the playoffs since no one will want to give him a chance to work it out ahead of time.
I could not be higher on the Warriors
If you wouldn't mind, it's time to gush about the greatest team in basketball, if not world sport, right now.
It's not just because Steph is the front runner for the MVP, or because Andre Igoudala has transformed from walking corpse to prime Iggy, or because Jordan Poole is the new young hot boy taking a leap.
Of course, Steph is the most obvious factor in the Warriors early success. In their recent win against Cleveland the Dubs pulled off a 35-8 fourth quarter to close out the game – Steph was directly responsible for 33 of those points. It turns out offense is pretty easy when the entire defence only pays attention to one guy. Big shock, Steph is the best shooter of all time, that's nothing new.
What I can't get over is the defence, which is sitting comfortably at #1 in the league. This is where Draymond proves why a guy who looks like he's wearing a backpack when he shoots can get paid $24 million because he's able to keep Durant scoreless over a quarter.
As pick-and-roll offense has taken over the league it's become the habit of teams to switch everything. This invariably leads to teams hunting out mismatches on switchy defences, and highlight reels of centres being embarrassed by point guards.
That's not to say that a switching defence doesn't work, it's just that it's not as easy as saying "switch everything" and hope your guys can cover. In the Warriors case, when they switch, they keep switching. Whenever the Warriors are stuck with a defensive mismatch, Draymond, Igoudala or Kevin Looney are scrambling off-ball to replace the assignment, shutting down the advantage. Draymond and Igoudala are especially impressive, covering gaps in each other's coverage without even speaking to each other, going on mental connection alone.
More than anything, Draymond is playing with the renewed confidence of a guy who knows his team is good again. He's the absolute leader of the team, the voice you can hear constantly from the on-court microphones, even when he's on the bench. He's using that presence to keep the rest of the team engaged. Even when up 20 against Brooklyn last week, Draymond was screaming at his teammates like it was a game 7 after they gave up an easy layup. The majority of the team being relatively unscarred by the playoffs, and not being Kevin Durant and willing to talk back to the team crazy, are conforming to his ways and maintaining an elite defence.
I know some people don't like Draymond's antics, he gets away with genuine referee intimidation – even last game after not receiving a foul call he yelled directly into the referee's face a good 5 times "CALL IT EVAN". Obviously, I'm biased but I love how he cares so much about winning every possession that he is willing to make himself look like the worst guy in the league.
On top of all this – hey good on you Andrew Wiggins. The guy who everyone thought would be the face of the league within 5 years of being drafted has been playing genuinely good basketball. He's not expected to do anything outside the system, which is perfect for him; he just needs to get to his spots and make his rotations on time. When he does that, he gets the ball in easy locations to score. When he does it really well, he gets to score a lot. It's nice to see him pick himself back up after a rough couple of years in Minnesota.
As we head towards week 6 we're sure to see just as much drama. We might even see a real punch thrown soon enough. If I could put money on it, I don't know who I'd bet on to actually throw the first punch, but I'd like a market on the victim being Mason Plumlee.
Fancy yourself as a bit of a writer? Got some unqualified opinion and unwavering bias you'd like to share with the world? Send it through to dyor@hellosport.com.au to be featured on the site