Everything You Need to Know From the First Week of the NBA
by Joseph Murphy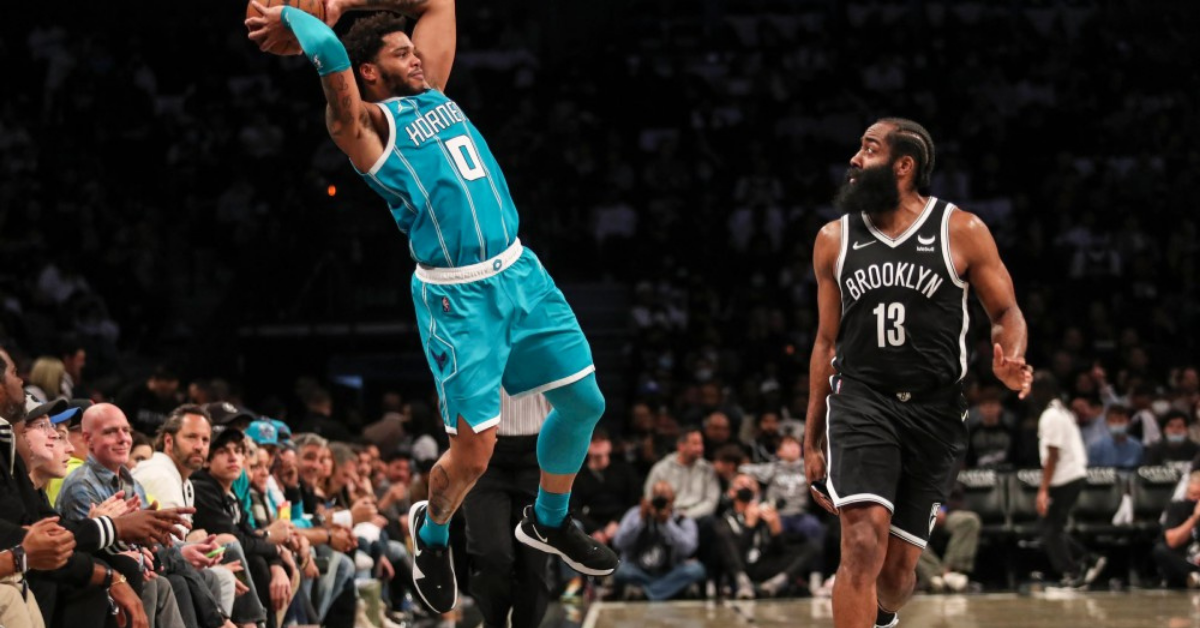 It's been a week since the opening of the NBA season, and I am in total bliss. In just a week we've had a fight break out on between Anthony Davis and Dwight Howard on the Lakers bench, the beginnings of another Donald Sterling-esque scandal following whispers that Suns owner Robert Sarver is potentially as bad a person as he is a decision-maker, and the continued Simmons saga, as he attempts to make power plays against noted power player Daryl Morey. If rugby league drama is written by the writers of Home and Away, NBA drama is written by the writers of Succession, and it's only been a week.
My favourite moment this week came in the Knick's home opener against the Celtics, a double-overtime game in front of 20,000 screaming New Yorkers in Madison Square Garden. With 26 seconds left in the game Derrick Rose, the youngest MVP in league history, of horrific knee injury fame, takes advantage of a double ball screen from Randle and Fornier, drives the lane and banks a one-foot runner to ice the game. For a guy whose best years were denied to him because of injury, who would have been the point guard of a generation, who has bounced around the league the last few years to close out a game like that, it brings a tear to your eye.
I've watched enough basketball in the last week to be behind on nearly every other aspect of my life and instead of catching up on that, I'm choosing to impart to you what I've learned from not considering grocery shopping a priority.
Ja Morant is about to take over the league
Ja Morant broke my heart last year, but he's so fun to watch that I can't find it within myself to even dislike him. In the play-in game last year, he played the game of his life to beat the Warriors and advance to the playoffs, and has continued that form to start this season, averaging 35 points and 8 assists in his first 3 games.
Ja is a ridiculous athlete; he's lean and wily enough to spin and slip between gaps in defenders on the pick and roll, or he can take a burst of speed and jump a foot above the rim for another absurd dunk. Ja's playing like he's just learnt a cheat code for unlimited points. He's becoming the master of the play where he drives through three defenders at the hoop, comes out the other side and hits the circus shot behind his head. One of those plays that makes you realise that no matter how hard you trained you could never be an NBA player.
Ja is obviously the leader of his Memphis Grizzlies team, which is full of young talent and looks to be a real playoff threat. Hopefully, Jaren Jackson Jr can continue showing he's a valuable number 2 behind him. I don't think it's unrealistic to think that he averages 30 points a game this season and takes the 6th seed.
I don't care that the Bulls are 4 – 0
Yes, the Bulls have the best record in the league, partly because no Western Conference team has played 4 games yet. For all I care the Bulls could go 82 – 0, which they won't, because they suck. The Bulls 4 wins have come against the Pistons, who they've played twice, the Pelicans, who are disgusting, and the Raptors, who can't decide if they want to tank yet. In their opening game against Detroit, this apparently explosive offensive team only managed to score 14 points in the first quarter. Excuse me if I'm not falling over myself to hand them a championship.
The Bulls start playing actual NBA basketball this week, facing the Knicks, Jazz, Celtics and Sixers. They've enjoyed running train on teams not trying in the preseason and beating the bottom end of the league. This is a team that can't defend a shadow who is now going to try and stop Julius Randle, Donovan Mitchell, Jayson Tatum and Joel Embiid. Reality will catch up with Chicago quickly.
The Warriors are 1 Klay Away
On the other side of the league, the Warriors and Jazz are both undefeated. As good as they are, the Jazz have only played 2 games so it's a bit of an empty title for them. The Warriors, though, have just completed the California sweep, beating the Lakers, Clippers and Kings. Full disclosure, I kind of just made up the whole California sweep thing and I am unwilling to accept any criticism that I just made up an empty title to suit my own bias.
If you found yourself at a pub lunch on Friday you would have seen Steph Curry score 25 points in the first quarter against the Clippers, making all 10 of his attempted shots. The Warriors went on to let the Clippers back into the game, but Steph stepped up in the 4th, hitting two massive 3's to close out the game. The second of those was a lesson in how dangerous he can be off the ball. Steph was double-teamed when taking the ball up the court and tossed it ahead to Damion Lee. In the space of three seconds, he zags behind Draymond, gets the ball back and it's over – 3 points.
The Warriors play a unique offence based on movement and passing. In the last two years, with a roster mostly composed of guys who aren't in the league anymore, it looked like the Warriors were drawing up plays on an old iPhone 7. It turns out that style works a whole lot better with guys who can actually pass, and a guy like Nemanja Bjelica has been a  welcome addition. Bjelica plays a sly-dog game of kicking out weird passes from odd angles which no one could ever expect him to make as well as possessing the ability to always find himself an open shot when he's off the ball.  
The Warriors face the challenge of reintroducing Wiseman and Kuminga into the lineup, neither of which are great passers, but they don't need to rely on either player to achieve success in the regular season and can have the luxury of bringing them in slowly. The real addition will be Klay, who could join the team as early as Christmas. The combination of ball movement which isn't solely facilitated by Steph, letting him run around and cause havoc off-ball combined with the constant threat of Klay behind the arc is mouthwatering.
I really like Indiana and Sacramento, but I'm afraid they will betray me
I've found myself really drawn to this Indiana team, who, like always, should be a mid-tier Eastern Conference team who can threaten to make the second round at best. I'm interested in what Rick Carlisle will do with their offence and I love watching Sabonis on offence. He's a renaissance man in the way he can score with his back to the basket, but he's also a good enough shooter to play in a modern offence.
What I really love is his ability to run out on a fastbreak, go straight under the basket, throw his defender off him and finish with either hand. I'm just a sucker for how often he puts his defender on the ground and I can't help but watch a few minutes of every Pacers game whenever I open League Pass.
On top of Sabonis, the Pacers drafted Chris Duarte, who immediately looks like he's been in the league for 3 years. I don't know why, but I'm optimistic that this team might have a solid run in them once everything starts to click. Of course, they could also completely crater, which would mean I'm going to waste another year watching random 6 minute stretches of Sabonis offence, hoping for a sign this team might do something.
Another team I'm starting to like, which I'm afraid to even say out loud, is the Sacramento Kings. I've been catfished by this team the past few years on the false promise that they can build something behind the rising talent of De'Aaron Fox. Like Indiana they too have a promising rookie in Davion Mitchell, who started his NBA career by putting the clamps on Damian Lillard and Donovan Mitchell. He's got all the hallmarks of an elite defender and a real pain in the arse to play against.
The Kings have been such a dumpster fire throughout the last decade that even making the play-in game as a 10 seed would be considered a success. This season, they already pissed off the biggest player agent in the NBA, who tweeted their front office was a case study in mismanagement, and De'Aaron Fox's dad, Aaron Fox, has probably gone and liked another tweet saying De'Aaron should be traded.  
Maybe I just like being hurt, but I just want to believe the Kings can do something this year and finally make use of the genuine talent they have on their roster.
Week 2 brings another week of high drama, probably another Simmons development and hopefully some more Lakers infighting. As usual, I'll be commandeering the TV to make sure no one else enjoys themselves while I watch the third quarter of the Blazers against the Jazz.
Fancy yourself as a bit of a writer? Got some unqualified opinion and unwavering bias you'd like to share with the world? Send it through to dyor@hellosport.com.au to be featured on the site