How Freddy Fittler Birthed a Dynasty while Drooling in the Trenches for NSWRL
by The Ghost Writer Dribbler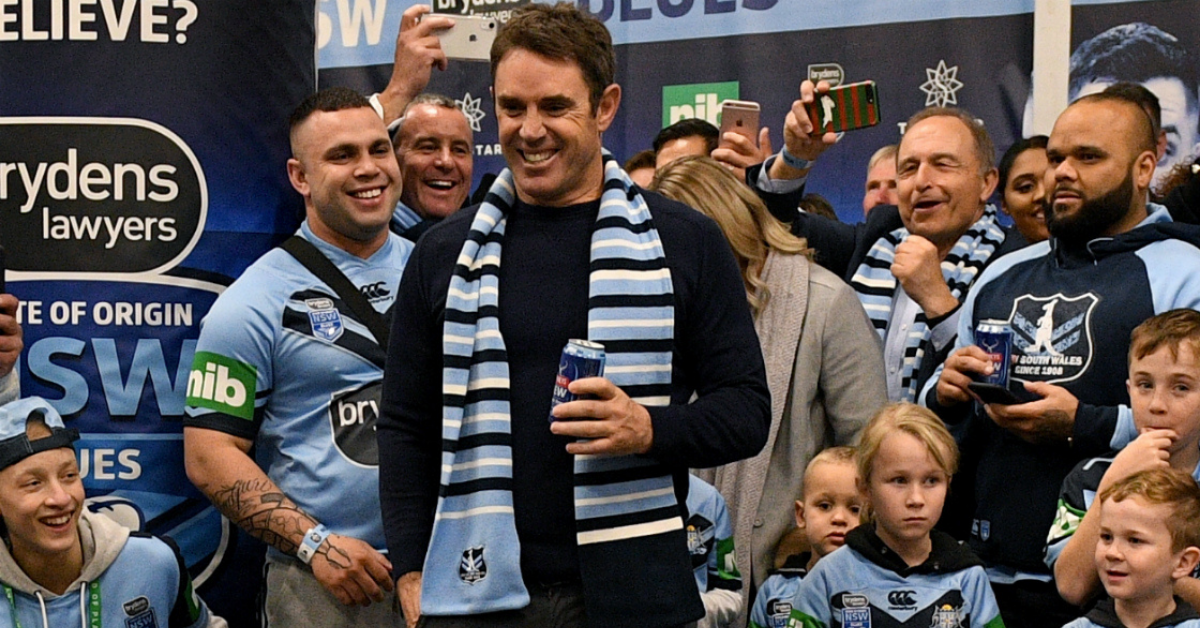 Freddy Fittler is an enigma of a man.  Chinese whispers report him stating to punters and dribblers in sports bars around the state about the great game of Rugby League 'I Just Bloody Loooove it'- the piece of saliva rolling down his chin emphasises this.
In 2014 Fittler and friend, the 8th Immortal, Andrew 'Joey' Johns travel to Fiji for their annual Fiji Odyssey. This trip has been made a permanent fixture to spread the great game of Rugby League and unearth local talent.  It is this curiosity and constant thirst for the game of Rugby League that will hold Fittler in good stead for the important job that is waiting in the pipeline for him in the years to come.
One year later, in 2015, Fittler was announced as the man to coach NSWRL's best u/16's, u/18/s and u/20's (Unders Teams). On receiving this appointment Fittler said:
"If we don't keep trying to improve the players and improve the game, then at some stage it will plateau…. If you're not doing that groundwork well in advance of them kids getting to that moment then at some stage it could lose its shine… When I took this job on, it was for the kids. It wasn't to coach NSW in the future. Hopefully I do a good enough job, the kids keep coming through prepared and I stay in this job."
It was at this moment that Fittler's time in the NSW State of Origin trenches reaches its most pivotal stage. In this chain of events, it wasn't only the players getting that groundwork well in advance, but it was Freddy. While others were fighting over which current crop to harvest, he was soaking the NSWRL seeds with his raw saliva from 2015 to 2018 before his eventual appointment as the head coach of the NSW State of Origin team. Fittler has gone on to win 3 of his 4 origin series as coach, losing a weird end of season covid-19 exhibition with his second string side in 2020.  
In the 2021 series Fittler named 21-year-old Wests Tigers prop, Stefano Utoikamanu in the extended squad.  A dribbler responded to this selection by posting the 'who the fook is that guy' Conor McGregor meme with Stefano's face imposed on the original recipient of the quip, Jeremy Stephens. Fittler knew Stefano and his talent from his time in the trenches coaching NSW's younger teams.  Fittler knew Stefano well having coached his brother Filia Utoikamanu in the NSW 18's team in 2017. Sadly Filia's League career concluded that same year when he broke his neck playing lower grades for the Parramatta Eels.  Stefano is now being likened by some to front row sensation Payne Haas, though he may be a 'Haas-Lite', even a 'Lite' version would be amongst the best FR's in the game. 
Pan across to Fittler's current adversary (as of July 2021), Paul Green, in the same years Fittler was salivating over NSW Junior Rugby League players Paul was coaching the Cowboys to a finish of 4th, 8th, 13th and 14th.  Full disclosure, Paul did win a Premiership as coach of the Cowboys in 2015 and unfortunately, the Cowboys players would become the talent pool that Paul looked towards in his time as QLD origin coach. See: Kyle Feldt, selected by Paul, played perhaps the worst origin centre of all time, Francis Molo earning selection from the Cowboys bench was another head-scratcher. 
Back to Fittler, the players he presided over in his time with the NSW Unders Teams included: Payne Haas, Cameron Murray, Ryan Papenhuyzen, Zac Lomax, Bradman Best, Taniela Paseka, Latrell Mitchell, Victor Radley, Brian To'o, Keaon Koloamatangi and Nick Cotric.
The QLD '8 in a row' that the inbred Banana-Bender variant of the Punter and Dribbler refers to after each lost series is long gone, having finished in 2013.  Their reign was characterised by a once-in-a-generation spine of Slater, Lockyer/Cronk, Thurston and Smith.  This was then complemented by a replenishable source of foot soldiers. Matt Scott waned, Josh Papali'i emerged. Michael Crocker fell off, Sam Thaiday throbbed. Ash Harrison retired, Matt Gillett filled in. Dallas Johnson retired, Nate Myles stood up etc. 
NSWRL under Freddy's lead have built the once in a generation spine they have been searching for, Tedesco, Luai, Cleary and Cook will be giving QLD the same nightmares that Blues fans had for those grim eight or more years.  The foot soldiers will now be what is important if NSW can challenge QLD's streak. 
The fullback stocks are palpable. Tedesco has Turbo, Papenhuyzen and others waiting their turn for the custodian role down the track. The wings are locked down with Fox and To'o but Saab, Nofoaluma, A Johnston or the many freak centres could fill in. Centre stocks are at an all time high with Turbo and the 'Taree Ferrari' the incumbents, those waiting patiently include; Bradman Best, Lomax, Campbell Graham, Kotoni Staggs, Stephen Crichton and many more. 
The back-row stocks are similar to the centres, Rugby League's No.1 sort Cam Murray was elite in 2021 smothering key QLD'ers and T Sims was amongst the best. Shadowing the incumbents are young guns Souths' Koloamatangi, Manly's Olokau'atu (cousin of Jason Tuamololo), Josh Schuster and veterans like Finucane, Frizell, Chrichton. The front row has the game's best Payne Haas, Daniel Saifiti and Paulo as incumbents. Stefano, Manly's Taniela Paseka and veterans like RCG are there waiting for a chance.
The NSW foot soldier cattle is there. If the spine stays healthy they will easily have the herd to challenge QLD's streak. One thing you know for sure is Fittler will be drooling, watching and nurturing the talent of the NSW juniors for years to come. For the good of his state and because he just bloody loves it. 
Fancy yourself as a bit of a writer? Got some unqualified opinion and unwavering bias you'd like to share with the world? Send it through to dyor@hellosport.com.au to be featured on the site