The State of Origin Purity Pyramid
by Joey Dribbler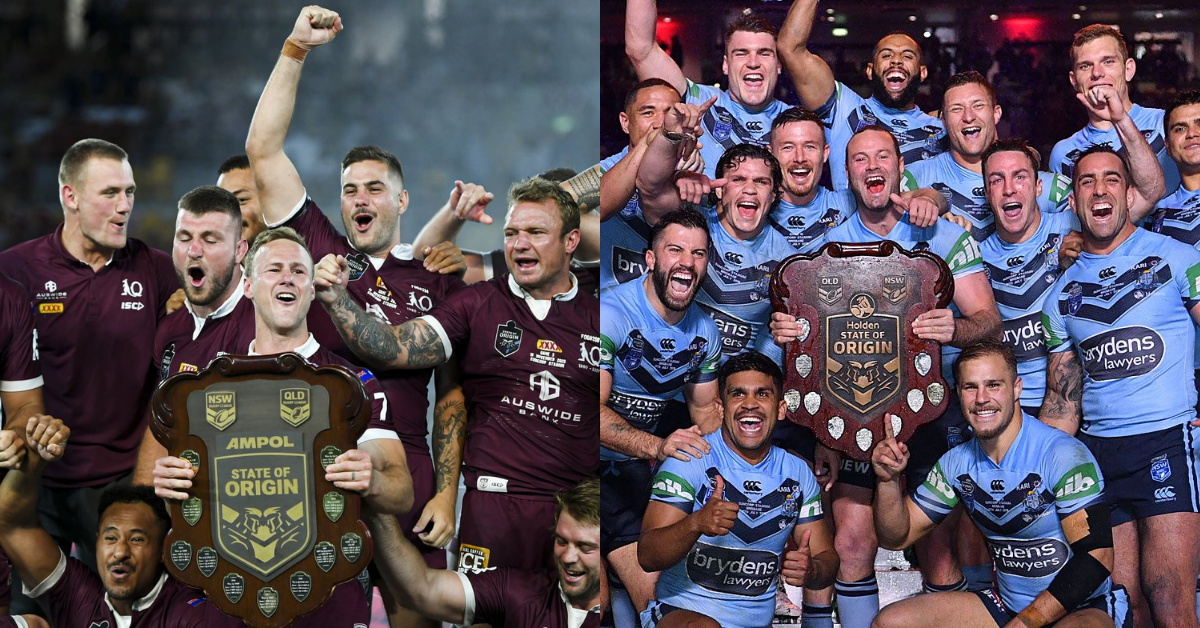 State of Origin. an exhibition of the greatest talent in rugby league. Each game in the series attracts some of the biggest TV audiences in the country. Why is this the case? Why do blokes ripping and tearing intrigue the average punter more than fake marriages, or weird home-reno shows?
The answer is simple: Origin is hard, fast and full of yarn. 
This year's origin has been riddled with storylines that have caused fans and journos alike to foam at the mouth. Think about it: what director could ever imagine a bloke with an IQ matching his jersey number cheating on his Miss Australia girlfriend with a 'dancer' in Origin camp.  
Yet, perhaps the most devastating narrative arc of the 2021 series has been the eligibility scandal of Ronaldo Mulitalo. After representing the Maroons in a plethora of junior sides, the ARL barred the young Shark just hours before he was set to debut for the Queensland senior side. Such a turn of events had me thinking, 'is origin eligibility really a hard-and-fast science?
No, it's fluid – like unset jelly. 
I have devised the following pyramid to help unpack the intricacies of Origin eligibility, ranked in order of purity.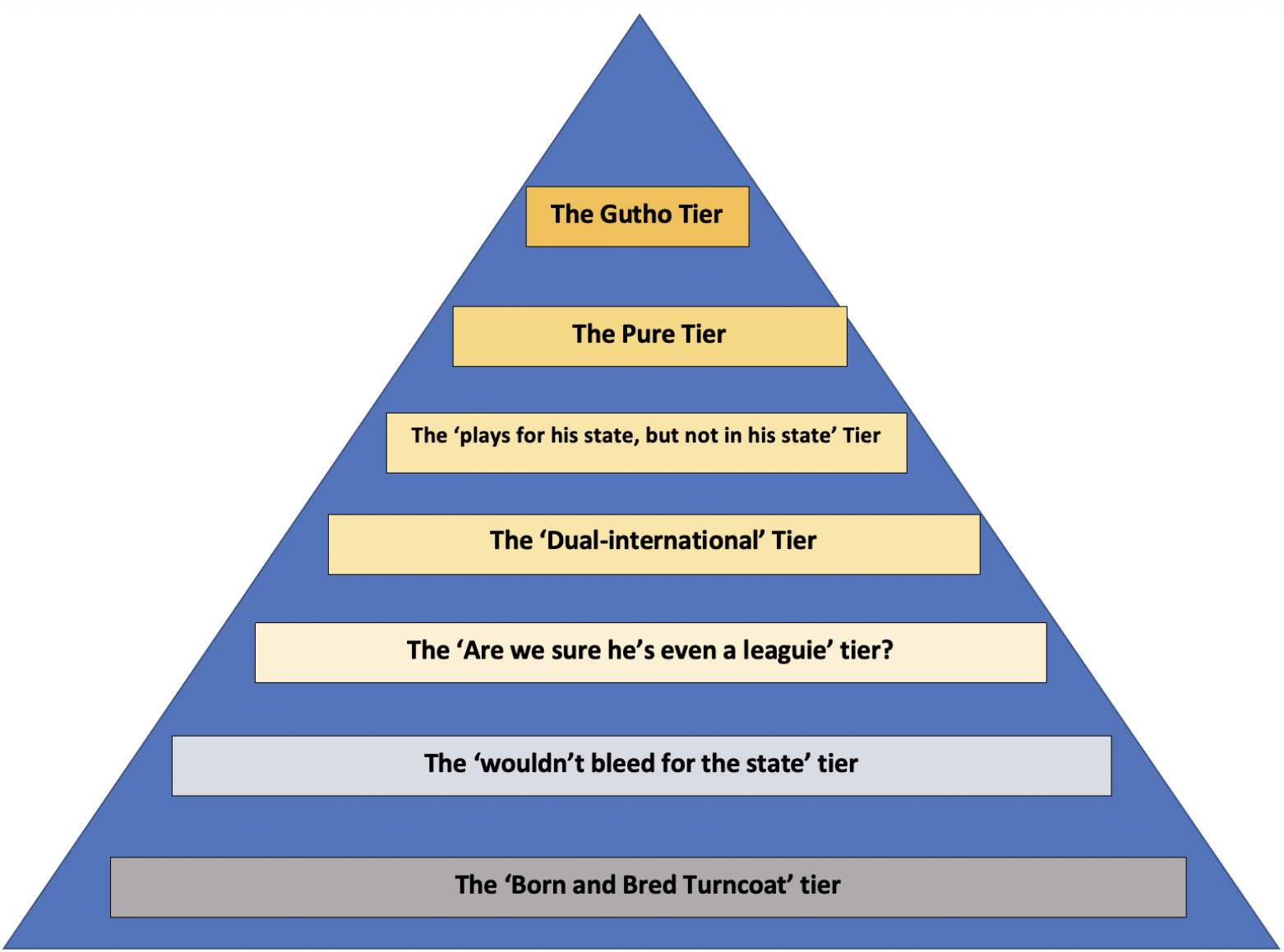 The 'Born and Bred Turncoat' tier
The bottom tier of the pyramid. A kinder person would describe this as the entry point of eligibility, but players in this bracket are traitors.  They are like toddlers, deeply dissatisfied with their toys – snapping their Michano when they discover something better to play with. 
The 'turncoat' accusation is one which is serious, and cannot be used lightly – but there's no word more apt to describe the exploits of players like Greg Inglis. On his day, GI played the game as if it were under 10s junior footy, and he was the only player with chest hair. Yet the bloke was born in the Blue-town of Kempsey, played all of his Junior Footy in NSW, and moved to Queensland when he was 17. If that doesn't scream turn-coat, I'm not here. 
The 'wouldn't bleed for the state' tier 
Although this tier is not technically the bottom of the pyramid, it entices the most cringe in the hard-core footy fan. The players who sit in this echelon are few and far between. In fact, I can only think of one player who fulfills this niche criteria.
As if playing for a NSW club as a Queenslander wasn't enough, Kaylyn Ponga has publicly stated his desire to play for the All Blacks. That's right. He doesn't want to even play the code, let alone play for his country. Ponga is like the guy who arrives at a party, only to tell the guests that he's about to duck off to another event. 
Contrast this disinterest with the passion of Ronaldo Mulitalo. The bloke has barely been in Queensland for five-minutes and he's turned his back on the Kiwis. Is that disloyalty? Maybe – but it's disloyalty in the right direction.
The 'Are we sure he's even a leaguie' tier?
Much has already been said about the code-wars of the early 2000s. As Rugby League continues to grow in audience size and revenue and Rugby Union swiftly moves its product behind a pay-wall, the spoils of the battle must create the most unwelcome heartache for the few remaining fans of the 15-a-side game. 
Players like Cam Murray and Angus Crighton, emerging superstars of the game, were aficionados of the line-out and the 22-meter line well before they embraced the Steeden. Sure, there's nothing wrong with being a refugee of the code-war, but let's be honest: private school haircuts and articulate post-match interviews are not synonymous with the leaguie. 
Are we glad to have the likes of Sam Walker and Joseph Suaali in rugby league? Sure – but let's not kid ourselves. These cattle aren't pure.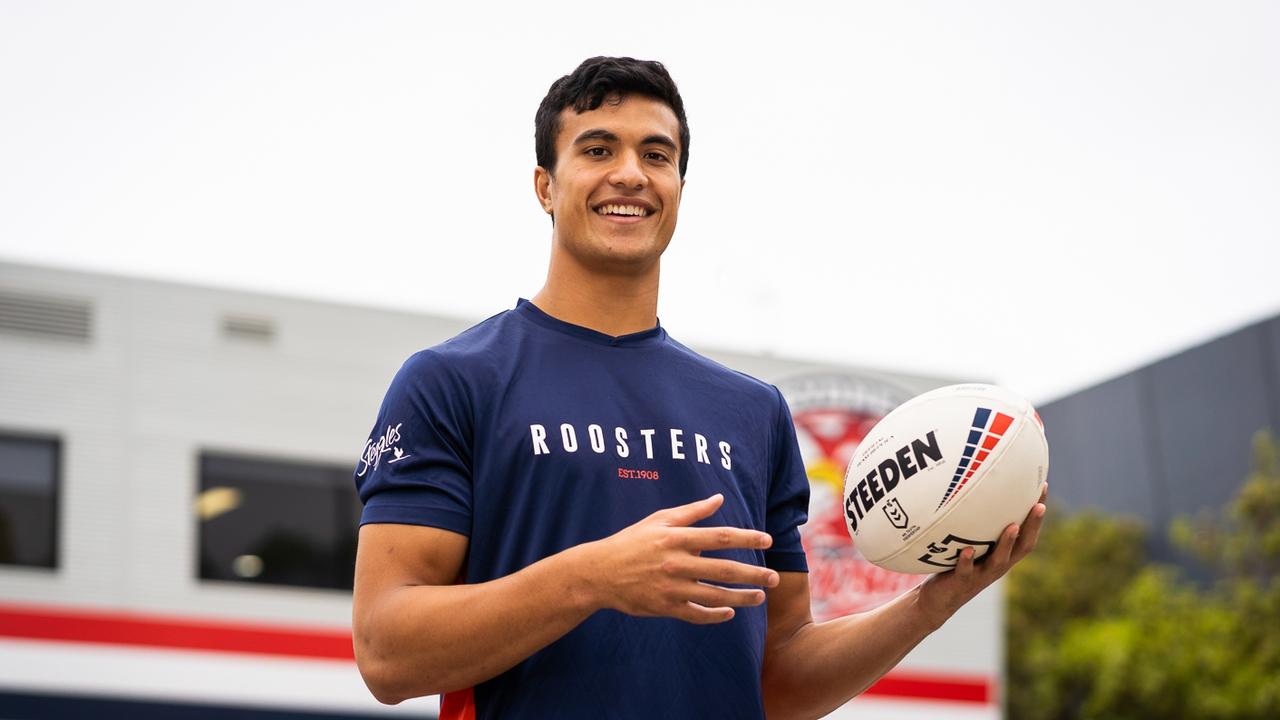 The 'Dual-international' Tier
Jarome Luai really scratched the inside of our skulls when he made public his desire to represent both NSW and Samoa. Die-hard Blatchy Blues felt like Jonah Hill's character in Wolf of Wall Street when Leo reveals that he's wearing a wire. 
But the high-IQ fan knows that our precious code's international game is like a dog on pet-rescue: a mix-breed hodgepodge with little regard for purity. James Tedesco played six times for Italy before donning the Kangaroos jersey. Jarryd Hayne represented Fiji both before and after playing for Australia. The list goes on. 
Rugby league is rampant with dual-international opportunists. They aren't pure-bred, but they are perhaps victims of their own leagueness: a characteristic that Paul Vaughan demonstrated to the wider public earlier this month. 
The 'plays for his state, but not in his state' Tier
Is there any greater wig-out then seeing a Bronco lace up for the Blues? 
Maybe they're victims of circumstance – they've had to move interstate to get a contract at a club? Maybe they've chased a larger contract? Maybe they wanted the Wayne Bennett experience? 
But let's be honest, there's always something off about players migrating across the borders. Like, there should be a policy that players who play for their state, but not in their state need to apologise before they enter Origin camp.
This tier is widespread: Payne Haas, James Roberts, even Queensland skipper Daley Cherry-Evans. However, none of these players surpass the impurity of Fatty Vautin, who represented both Queensland and NSW City. Bit weird. Super impure.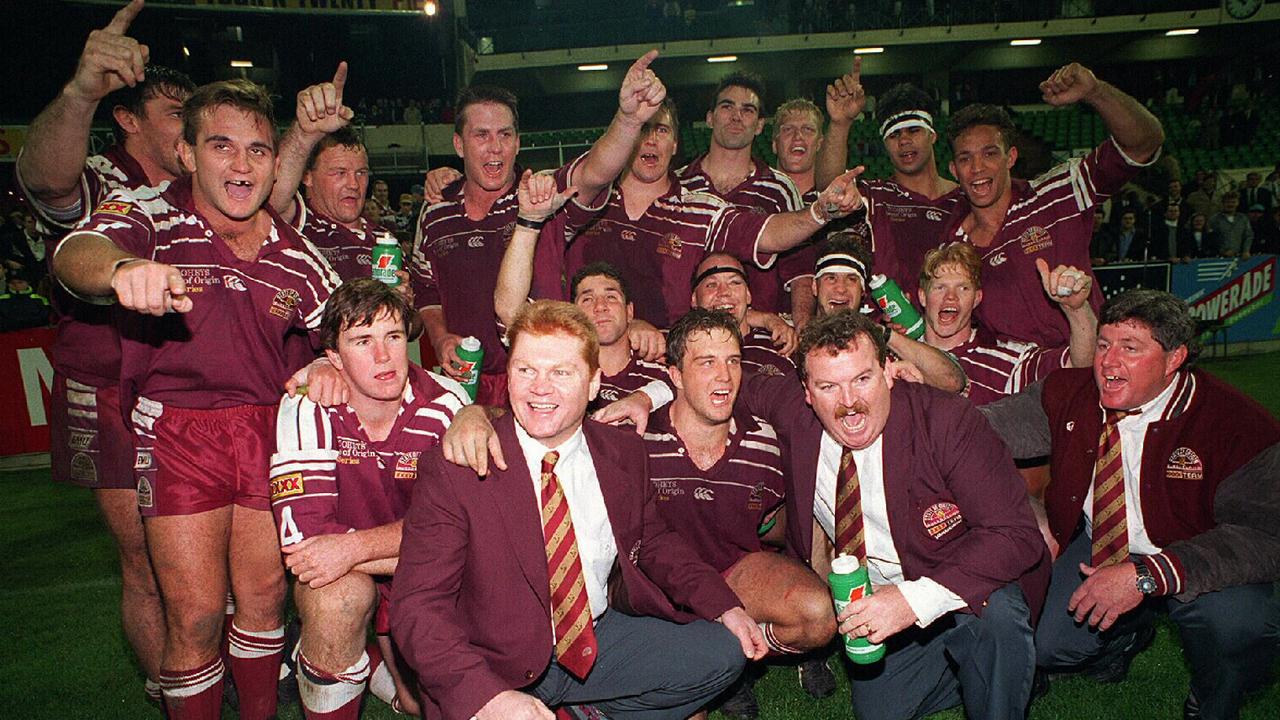 The Pure Tier
Mitch Pearce, Paul Gallen, Andrew Johns: not names you would normally associate with purity. But, Punters and Dribblers, these men are what Origin is all about. 
Pearcy: Left his elite private school when he was 16 so that he could play rugby league.
Gallen: Is there anything more leaguie then retiring only to pick up the only sport more inducive of CTE? 
Joey: Do I even need to explain?  
These men are gladiators for the game. They play for clubs in their state, they play for their state of origin, and they all provoke some level of disgust in the general public.  
Sure, molesting a dog, peptides and a bender in broad daylight aren't going to earn you any brownie points with the Salvation Army. But having a touch of grub is essential to rugby league purity. 
The Gutho Tier 
Here's some trivia for you: the highest piece of the Egyptian pyramids was the pyramidion – a piece of black granite, covered in gold, and transcribed with hieroglyphics. Is this useful information? No – because the top of this pyramid is no piece of stone: this pyramidon is Clint Gutherson. 
I know what you're thinking, 'how could a player with one series to his name, where he played out of position and lost be the peak of origin purity?'
Believe me when I tell you this, Gutho bleeds blue.   
Name a single player in the NRL who, with a hundred-odd games to his name,  would make a Instagram post slobbering over the rep-side which he wasn't selected for. Who would think, 'yes '#QueenslandersAreLemons is a great caption?' Not Gutho – because he doesn't think. He simply #bleedsblue.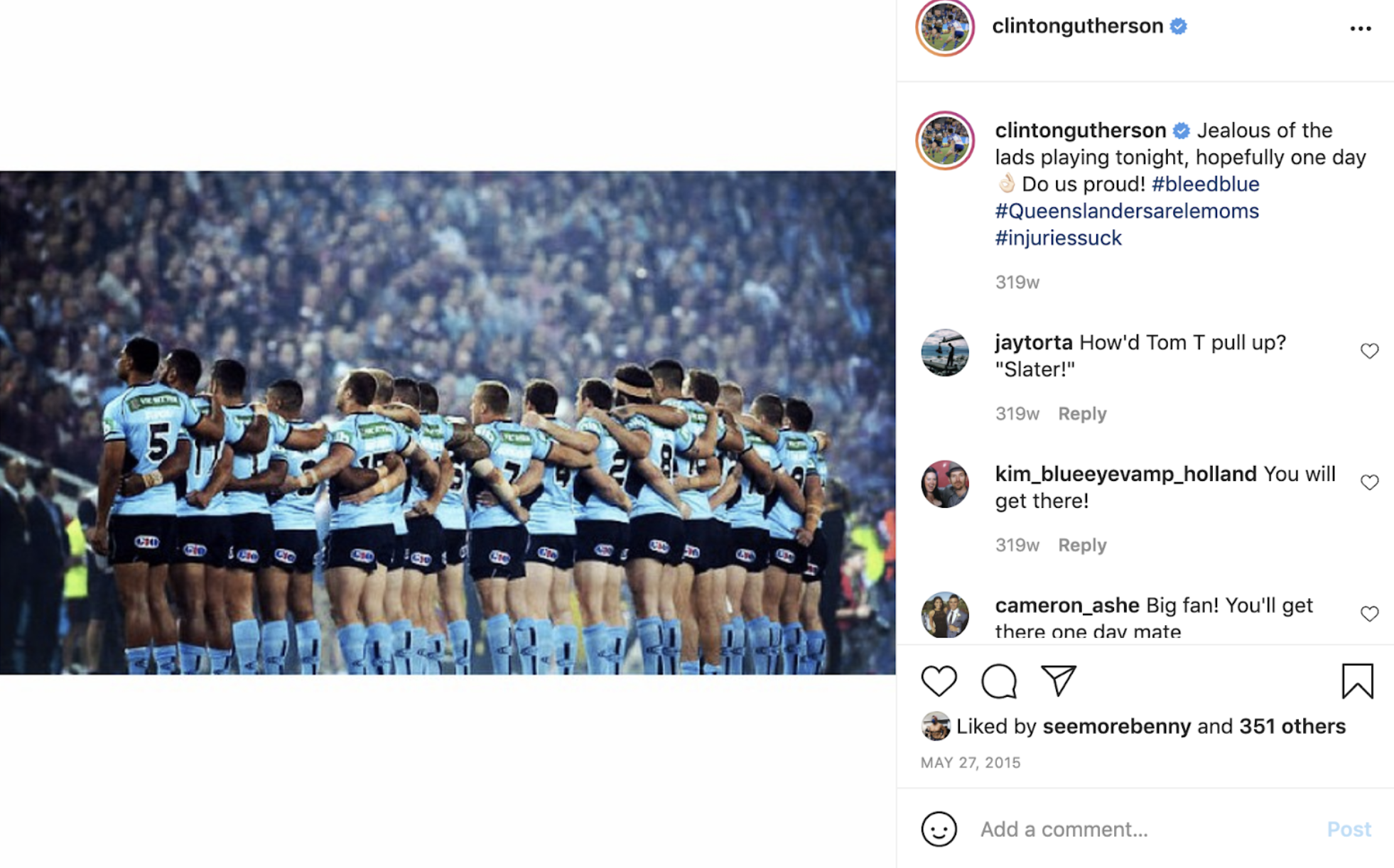 Hell, Freddy even called Gutho into the squad for game three of this year's dead rubber series. Will he get any minutes? Not a chance. He's the fourth-best fullback in the side. 
So, what's the point?  Freddy knows that Gutho is as pure as you get. In a game filled with non-leaguies and red-heads that barely want to play for the country, in a sport littered with turn-coats, this Blue's side needs a thoroughbred New South Welshmen. 
I have no doubt that Gutho is going to bed tonight, wrapped in his NSW duvet cover, dreaming of the shield, and I have no doubt that the great man will post once more about a series he had little involvement with.
Fancy yourself as a bit of a writer? Got some unqualified opinion and unwavering bias you'd like to share with the world? Send it through to dyor@hellosport.com.au to be featured on the site