Ben Simmons has Trojan Horsed the 76ers
by Joseph Murphy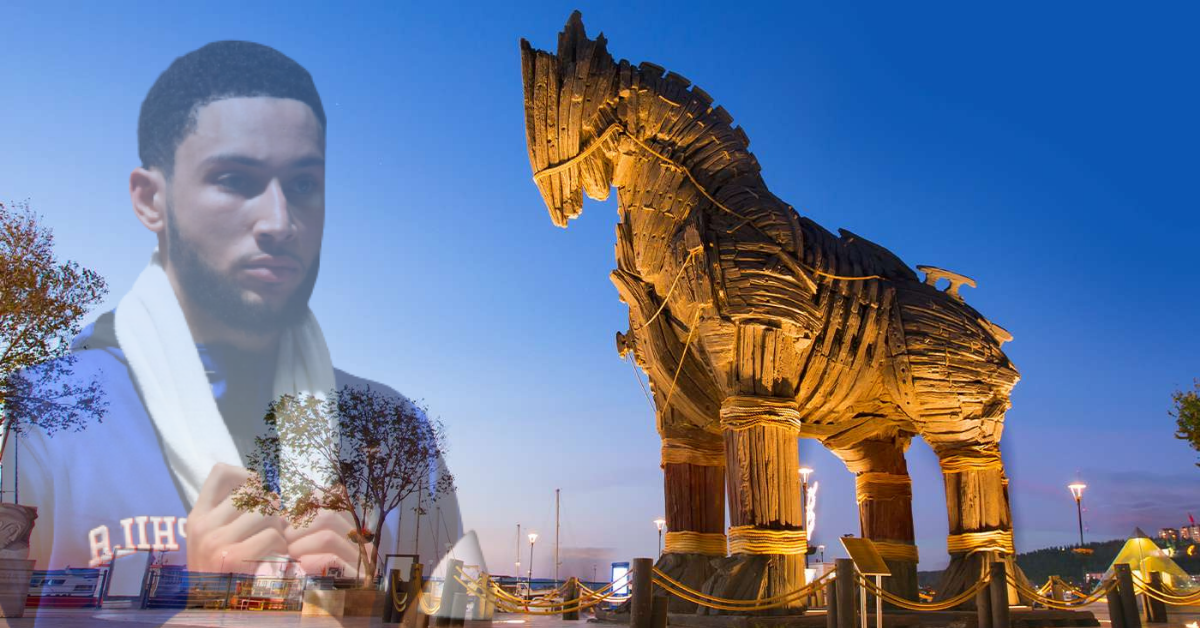 In an update to the story that has cast a shadow over the entire off-season, Ben Simmons has been suspended for one game after being tossed from practice.
Simmons will miss the Sixers opening game for "detrimental conduct" after coach Doc Rivers threw him from practice for refusing to participate in a team drill. In another welcome twist of the knife, hall of fame trash talker and teammate Joel Embiid said after practice "I don't care about that man". Safe to say, Simmons is an unwelcome presence.
Simmons returned to the Sixers last week, appearing unannounced to the team facility for a covid test. Since then, Ben has been seen at practice pulling faces and doing as close to nothing as he can get away it. My own sources have revealed that Simmons has also been routinely dropping reverse kangas in the staff toilets. 
The only reason Simmons is there is because of money. Philly called Simmons bluff that he would sit out the entire season and willingly lose the $33 million he was owed this year. In the end, $1.4 million worth of fines was enough to bring him back to Philly, but don't think he's there to do anything but keep up appearances.
To recap, his coach has had enough of him, his co-star doesn't care about him, his employer doesn't want to pay him and Philly fans, not known for their kindness, already hate him.
Still, Simmons is a part of the Sixers and present at practice. The mortal enemy of the entire franchise is within its four walls. He has Trojan Horsed his way back into the team, why should he care if his presence rots the place from within? If they don't like it, they can trade him.
For the rest of the team, Simmons will continue being the biggest story about the Sixers, and that doesn't look like changing. No matter what they achieve, they'll be asked about Ben.
Nonetheless, Simmons needs to keep showing up to practice and making himself ready for games to make sure he gets paid. He could attempt to play the injury card, but Philly will fight just as hard to confirm any vague diagnosis of "back pain" or the like.
Philly are playing hardball, and Simmons should too. All reports say he hasn't been paid since July, the poor guy. If he wants to get paid, he needs to keep rocking up to practice and be ready to play.
This situation will continue to escalate; Philly say they're not trading Simmons for a role player and the most likely candidates for a superstar trade (Lillard and Beal) haven't made any attempts to get out of their own situations. Simmons continued presence is motivation enough for a trade and the man is a deep well of drama. My hope is that he keeps raising the stakes and turns up to ready to play their first home game against the Nets on Saturday. If he takes the court, expect a genuine riot. The game's on Kayo at 9:30 am, set your alarms.
Fancy yourself as a bit of a writer? Got some unqualified opinion and unwavering bias you'd like to share with the world? Send it through to dyor@hellosport.com.au to be featured on the site