Peace & Harmony Returns to the World as God's Winter Game Signals an End to the Worst Off-Season of All Time
DYOR Dave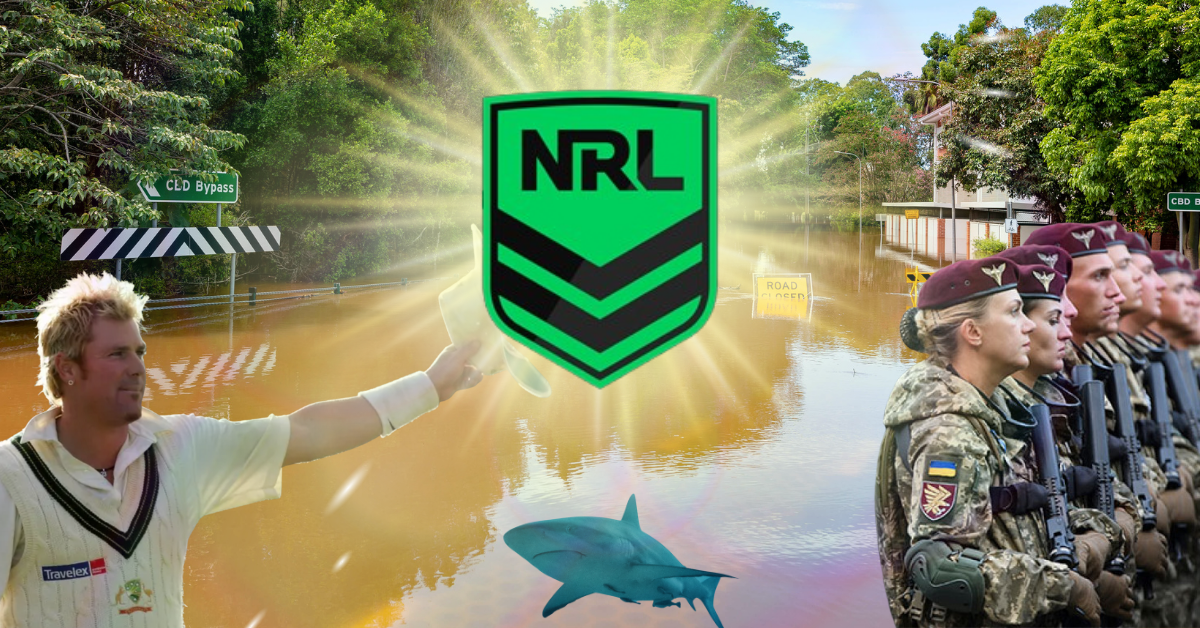 The sun is shining in Sydney and a sense of excitement has all but washed away the absolute cunt of a month that has tormented Australians since the end of Cricket season. February (and the first week of March) is traditionally recognised as the worst month in the calendar, however, in true 2020s fashion, this has easily been the cream of the crop, if said crop was manure.
Coming off a historic Ashes victory, and a mild treatment from La Niña leading to a decent summer, it seemed that the gods were once again shining upon us after a dark two years. February got off to a quiet start, with the Winter Olympics, a few T20s, the Super Bowl, and the NRL all-stars game to keep the dribblers and the gods content.
Suddenly, in mid-February, tragedy struck in Sydney with a horrific Shark attack that sent shockwaves around the world. What was thought to be a freak event can now be recognised as a dark omen of a bleak fortnight to follow, the gods were beginning to get restless.
Four days later, any anxiety around the ocean was well and truly swept away by the Russian invasion of Ukraine, as fears of a global conflict spread like Covid through a "freedom" rally. Although Australians largely felt safe from danger thanks to our GOAT MOAT, we were soon met with our own disaster, as floods wreaked havoc through the East Coast of Australia.
The gods were clearly angry and were taking it out on the most humble of dribblers both overseas and at home. As March began, dribblers were optimistic as they looked towards Australia's tour of Pakistan as a respite from the torment of the previous two weeks.
Not only were we treated to one of the most boring test matches in the 250-year history of the game, but Australia lost not one legend of the game, but two. Shane Warne's unexpected passing shook the nation like nothing else in recent years and only one day after we lost Rod Marsh. It was a dark day in Australian sporting history, the emotions of which still feel fresh in the heads of many cricket lovers. The gods had struck a brutal blow to us mortals, selecting Warnie before his time to join the Heaven XI alongside Bradman, Marsh, and Phil Hughes.
As we sit on the precipice of the 2022 NRL season, God's winter game is bringing back positivity into the lives of dribblers around the nation. The gods have finished their smiting and are now settled comfortably on the couch with a Bloke in hand, ready to enjoy the greatest game of all.
While the physical, psychological, and environmental damage of the last month may still cast a black cloud over our thoughts, the start of the NRL season brings a shining light into our lives and will be sure to lift the spirits of any dribbler yearning for better days.
Fancy yourself as a bit of a writer? Got some unqualified opinion and unwavering bias you'd like to share with the world? Send it through to dyor@hellosport.com.au to be featured on the site
Check out the Latest Hello Sport Podcast episode #346 – Vale Warnie