Can A Premiership Be Won On the back of Narrative and Yarn?
DYOR Dave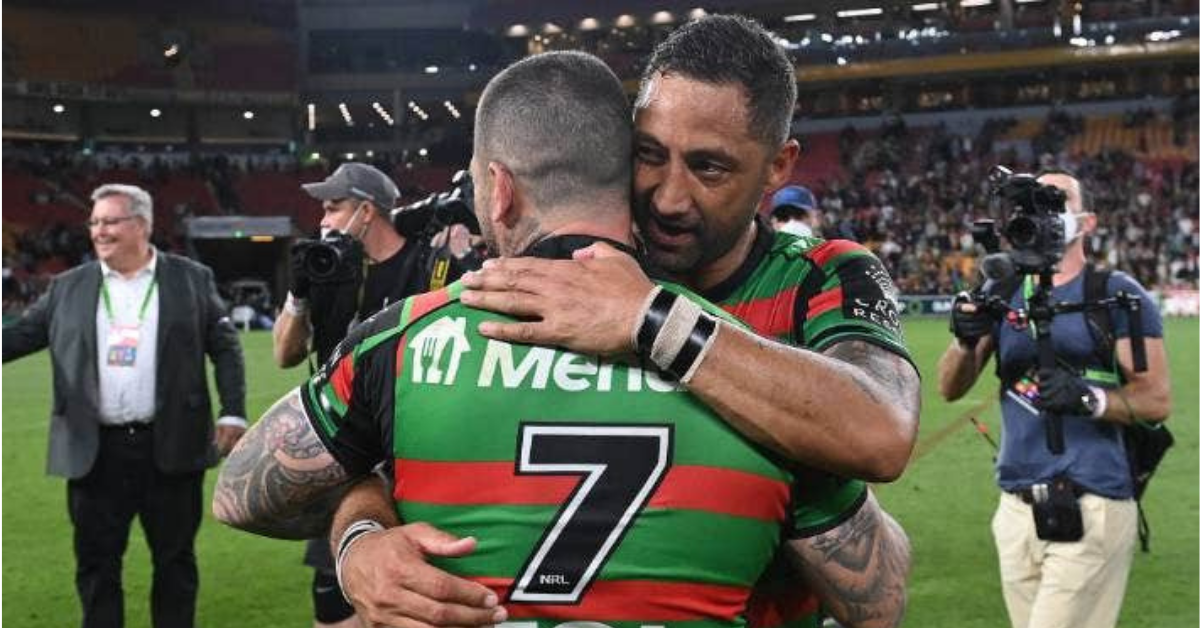 Three weeks ago, Latrell Mitchell launched his shoulder into the face of Joey Manu, and with it, he launched his off-season campaign a month earlier than Souths fans would have liked. After that, punters and dribblers alike were happy to write the Bunnies off, with popular opinion deciding that a premiership was out of reach for a club missing such a vital part of their spine and having conceded 50 points twice this year. Unbelievably, they now sit just 80 minutes away from a historic premiership, one that would rewrite record books and ultimately prove wrong critics of the club, coach, and players.
In previous years, premierships have been won on the back of a strong season, hard and consistent work on game plans that have paved the way for greatness. While there's no doubt Souths have toiled as hard as just about any club this season, it would seem the largest point of difference, and the one factor that could see them rise above their opponents and claim an unlikely victory, is narrative. Regardless of next week's result, it's an astonishing feat for a club said to be at the end of their premiership window, and as long as the Storm win tonight's qualifier, it's fair to say the vast majority of fans will be backing the narrative soaked campaign of the Rabbitohs.
16 years after his heroic flick-pass helped the Tigers to their first premiership, Benji will line up in the big dance once again, and potentially become twice as successful as his DMC predecessor. It would be a fairytale finish for one of the game's most treasured ornaments, after a career that saw an incredible start lead to years of disappointing performances in subpar teams, and a failed stint in Rugby Union. Universally admired and adored, even the most diehard Storm fan has a soft spot for the inspirational narrative of the 37-year-old kiwi,
Perhaps less emotionally provocative is their supercoach Wayne Bennett, who is looking to become the only coach to win a premiership with three different teams. While there is a lot of discussion around who the greatest coaches of all time are, a win here for Bennett without his star player would tip the weight of the argument heavily in favour of the old master. At 71 years old, he's easily the oldest coach in the league, and with his future uncertain, this could be a perfect opportunity to finish his illustrious career with one final mic drop and his signature cheeky smile.
And then there's Adam Reynolds, Redfern born and bred, a favourite son of every Souths dribbler and one of only three players who won the 2014 title with the club. Fans of the club and even those outside have expressed their outrage and confusion at the decision to release their star halfback, and with his current vein of form, it's easy to see how Souths could be regretting that decision. Nevertheless, Reynolds has one last shot to once again etch his name into Bunnies folklore, before he spends what will assumably be a fruitless 3 years at the Broncos.
These three colossal narratives are driving the success and hope for the club and their fans, along with supporting acts from Alex Johnston scoring tries for fun and future immortal Mark Nicholls. Whoever lines up against them next week wouldn't stand a chance if the game was scored on yarn and sentimental narrative alone, and as all Rugby League dribblers know, the game can be won or lost in the narrative game. When the players run onto Suncorp Stadium next week it's all about footy, but until then, yarns rain supreme, and in those stakes alone, the Bunnies are unstoppable.
Fancy yourself as a bit of a writer? Got some unqualified opinion and unwavering bias you'd like to share with the world? Send it through to dyor@hellosport.com.au to be featured on the site