The Mayo Report: 'Sorry I Was Wrong, But Everyone Else is Still Way More Wrong Than I Have Ever Been'
DYOR Dave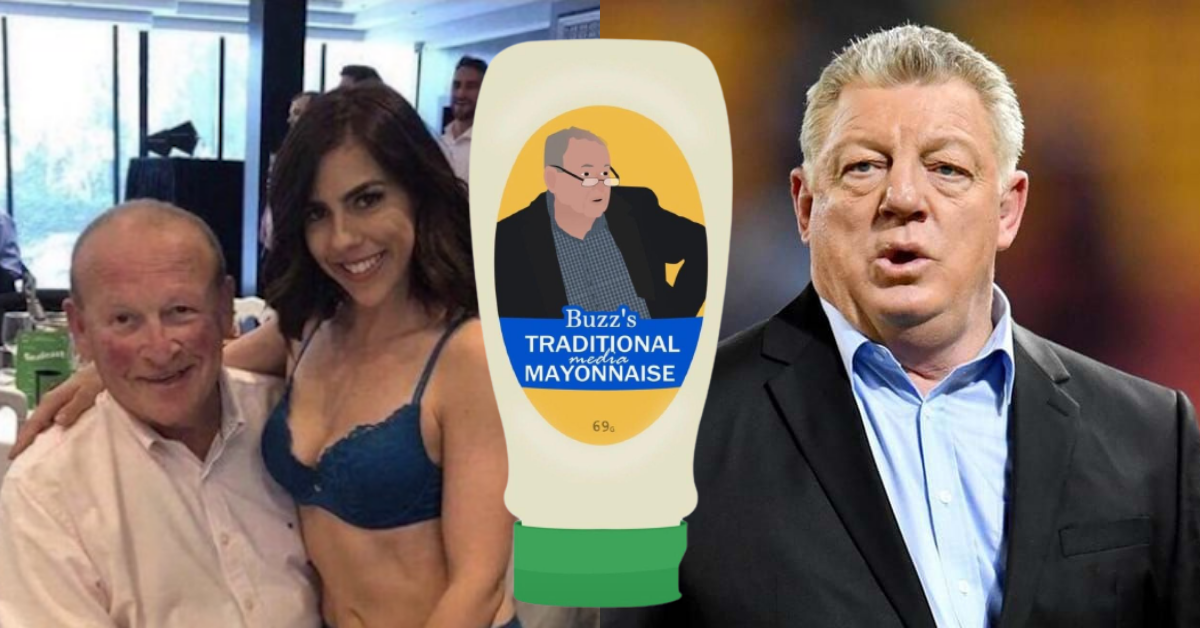 The first weekend of Rugby League action provided plenty of upsets and surprises, although the most shocking of revelations came during NRL 360 on Monday night, where the Mayo Man himself Buzz Rothfield actually owned up to a mistake and apologised.
Last Monday, Buzz spread a thick layer of mayo over a story about the Bulldogs' supposed lack of training technologies when James Hooper said "Just about every club uses drones now"
Rothfield then replied whilst dripping in egg, oil and vinegar: "Yeah Well Canterbury Don't."
Gould, clearly not a fan of mayo, responded almost immediately, posting two videos to his Twitter of drone footage from Bulldogs training, as well as one of the players reviewing said drone footage.
While Buzz is no stranger to being proven wrong on a weekly basis, he was essentially forced into an on-air apology by NRL 360 co-hosts Braith Anasta and Michael Ennis.
Deflecting the blame immediately, Buzz said, "You've got to put your hand up here, I got some bum mail last week, I got my wires crossed and I said Canterbury didn't train with a drone."
For a moment it seemed like Buzz was having a genuine moment of self-reflection and humility, but he soon returned to regular scheduled programming and unloaded on Gus Gould, the man who proved him wrong.
"You know what we all make mistakes – I'll tell you about Gus, Gus sacked Ivan Cleary as a coach, didn't think he could win a comp. that was a mistake… You know what else Gus did, He extended Anthony Griffin for three years and ten weeks later sacked him, and cost Penrith 1.5 million to pay him out, he makes mistakes too."
He finished off his solemn and respectful admission with a clearly genuine apology: "I apologise, are you happy?"
After the show, reports suggest that the Mayo Man was spotted in the corner of his office, crying in the fetal position, his body apparently sent into shock by the admittance of any personal fault.
Hello Sport Herald has since caught up with Mr Mayo, who is now calling out the unfair treatment he is facing, for breaking essentially the only rule of journalism – don't lie.
"I don't see why I'm the one copping it when it was Gus who didn't shout a round of drinks at the Penrith League's club in September 1971, I mean who's the real criminal here?"
The Mayo Man continued, "I may have been wrong about the Bulldogs, Gus Gould, and most of the other things I've said in my career, but right now Vladimir Putin is committing war crimes in Eastern Europe, so to call me out while that is going on is nothing short of pure evil, and I won't stand for it."
The feud between Gould and Rothfield is an exciting prospect for fans, as they can now enjoy the titanic clash of thoroughbreds during matches on the weekend, and also witness a battle equivalent to a 300-year-old tortoise against a one-armed sloth during the week.
It is unclear whether Rothfield apologised out of genuine remorse, or whether Gould is currently blackmailing him with even more pictures of Buzz alongside strippers, but fans will be eagerly waiting to see if this trend continues, or if Buzz goes back to his old ways.
Fancy yourself as a bit of a writer? Got some unqualified opinion and unwavering bias you'd like to share with the world? Send it through to dyor@hellosport.com.au to be featured on the site
Check out the Latest Hello Sport Podcast episode #347 – Stargazers