ABSOLUTE DRIBBLE: NBA Week 4
by Joseph Murphy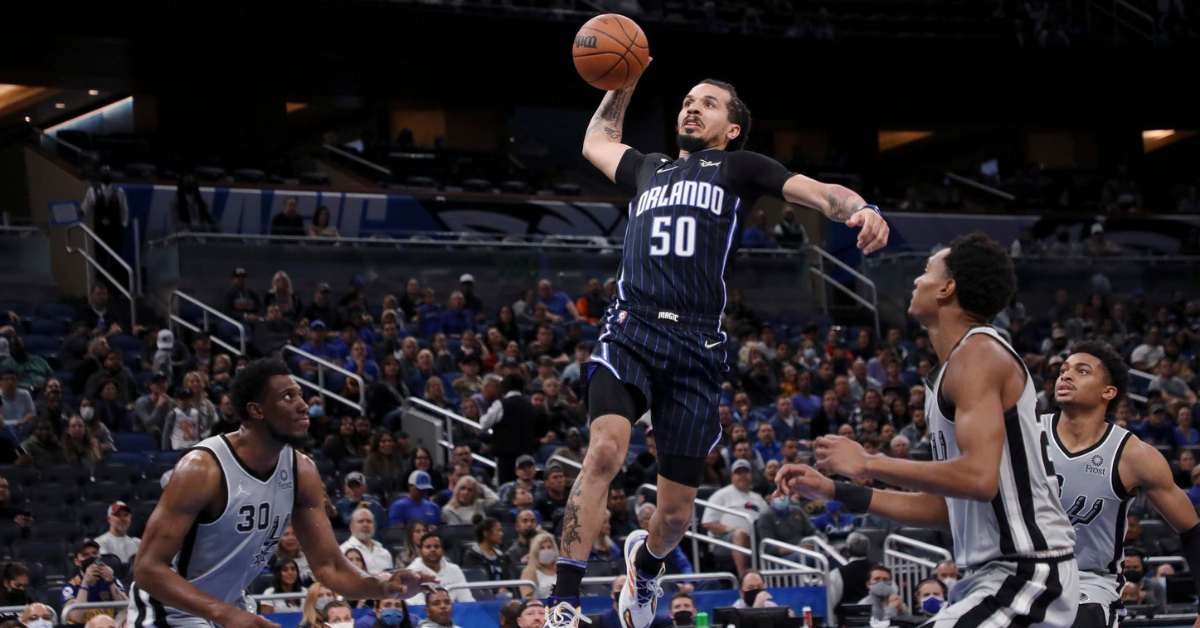 To start with a philosophical point, the NBA might be the logical end of unfettered consumerism, and capitalism generally. During a time out in Sunday's Clippers game, a member of the crowd was given $10,000 for arriving at the game 15 minutes early. The Clippers are doing this for every home game in November, giving away more money than I get paid in a year, just for punctuality. Meanwhile, all I've come home with from Broncos games in the last two years is heartbreak.
That's not to say nothing happened on the court this week, that Clippers thing has just been stuck in my mind. This week has had its fair share of on-court action, including a tasteful shoving match between Rudy Gobert and Myles Turner, which saw Joe Ingles fly in and absolutely deck referee Ed Molloy in an attempt to break up the fight. The league certainly didn't care about what Ingles did, as he was fined without missing any games.
That's probably because Ed Molloy is one of the worst referees going around at the moment. My favourite Ed Molloy moment comes after a crucial no-call way back when Kevin Love was on the Timberwolves, giving the commentator an aneurysm as he screams "D'OH ED MOLLOY".
I'm not going to suggest that Ingles had any intention of hitting Molloy, but you can't convince me he didn't scream "D'OH ED MOLLOY" on his way down the court.
Cole Anthony should be your favourite player
Historically, the Magic have been the kind of team you only watch if you couldn't physically move from the couch and the game was already on the TV. Orlando have just come out of a rebuild where they drafted raw, athletic big men that couldn't shoot for 6 years in a row and wondered why it kept going wrong. Now, Orlando is attempting another rebuild off the back of talented young point guards Cole Anthony and Jalen Suggs.
No one believes in Cole Anthony more than Cole Anthony, just watch one of his interviews. My personal favourite was last year, after hitting a game-winning 3 against Memphis, he began the interview "I do this. I was bred for this", or when, without being asked a question he just started repeating "facts" and "shout out to the Magic". That kind of confidence comes from his ridiculous skill-set, from him knowing he can step on the court, score 20 and give out 5 assists no problem.
Most of Cole's game is focused on his excellent outside shooting, but he's also ridiculously athletic. I don't know how it's possible for a 6 foot 2 guy but he jumps so high that it makes him look short, like he shouldn't be able to physically occupy the space that he's in. He's all 3's and dunks, explosions and fireworks. I want the Magic to do well now just so I can see Cole be interviewed as many times as possible.
Paul George has me feeling nostalgic
If there's anything that's true about the relationship between NBA players and fans it's that love is fleeting. In a league with so much talent, it's so easy to flip on a player when they do something you don't like. It's so simple to call a guy washed and move on to the shiny new toy when there's a whole batch of shiny new toys every year.
Flashback to 2013 and Paul George and his Indiana team have just taken prime LeBron and the Heat to 7 games in the Eastern Conference Finals and have become everyone's second favourite team. PG was tipped as The Next Guy, the LeBron Stopper, the future finals MVP. While he had some good seasons, ultimately those predictions all became true for his now-teammate Kawhi.
Since joining the Clippers, PG has had the full spectrum of experiences and hit basketball rock bottom when his corner 3 crashed into the side of the backboard during a crucial game 7 against Denver in the bubble. In that moment, the entire basketball world flipped on its former darling. Resentment had been building against PG the years prior, especially once he'd given himself the nickname "Playoff P" before immediately being knocked out in the first round of the playoffs.
Suddenly, PG is leading an overachieving Clippers side that shouldn't expect to see Kawhi for the rest of the season and has me feeling nostalgic for the simpler times of 2013. He's already had two 40 point games and even had 8 steals one night against Portland. He's just fun to watch again: it's like breaking out your old Nintendo 64 and firing up Ocarina of Time, it just feels right.
The Suns are starting to rev up
After a bombshell report was released about Suns owner Robert Sarver (who is allegedly a racist, sexist, terrible person), it was suspected that Phoenix would be enveloped by off-field drama, players being unable to escape a post-game conference without being asked whether they had been called a racial slur by their teams owner.
That article was full of bombshells against Sarver, who came back with some wild retorts via his lawyers. One that really stood out to me was him saying he had never used the n-word, because he'd once repeated the n-word after someone else had said it and been pulled up for it. I'm not going to pretend to be the world's greatest lawyer but I think it's a bad idea for your client to admit to doing the things they're denying in their denials. 
Anyway, that situation isn't so fun to talk about, especially when the Suns are on a 9 game win streak.
Phoenix mustn't have realised games started back in October, which is fair since the schedule has been out of whack for two years now. Having not made the playoffs since 2010 before making the finals last season, the Suns didn't realise the off-season gets a lot shorter when you keep playing until June. So who can blame them for starting slow when they're used to a solid 5-month offseason?
Now that they've realised they need to win games to make the playoffs again, the Suns have made a job of doing just that. Even if it's a small sample size, they're playing fast, whipping the ball around in the half-court and sprinting out on the break. At age what, 42? Chris Paul has got this offence humming again and he's never going to die, he'll be in the league forever.
Phoenix look deadly and motivated by last year's finals loss. The West is just as open this year as it was last, and the Suns have every reason to expect to be playing deep into the playoffs. In their next 2 games they play against Dallas, a genuine yardstick to measure how good both teams are, and there's every chance their win streak goes out to 11.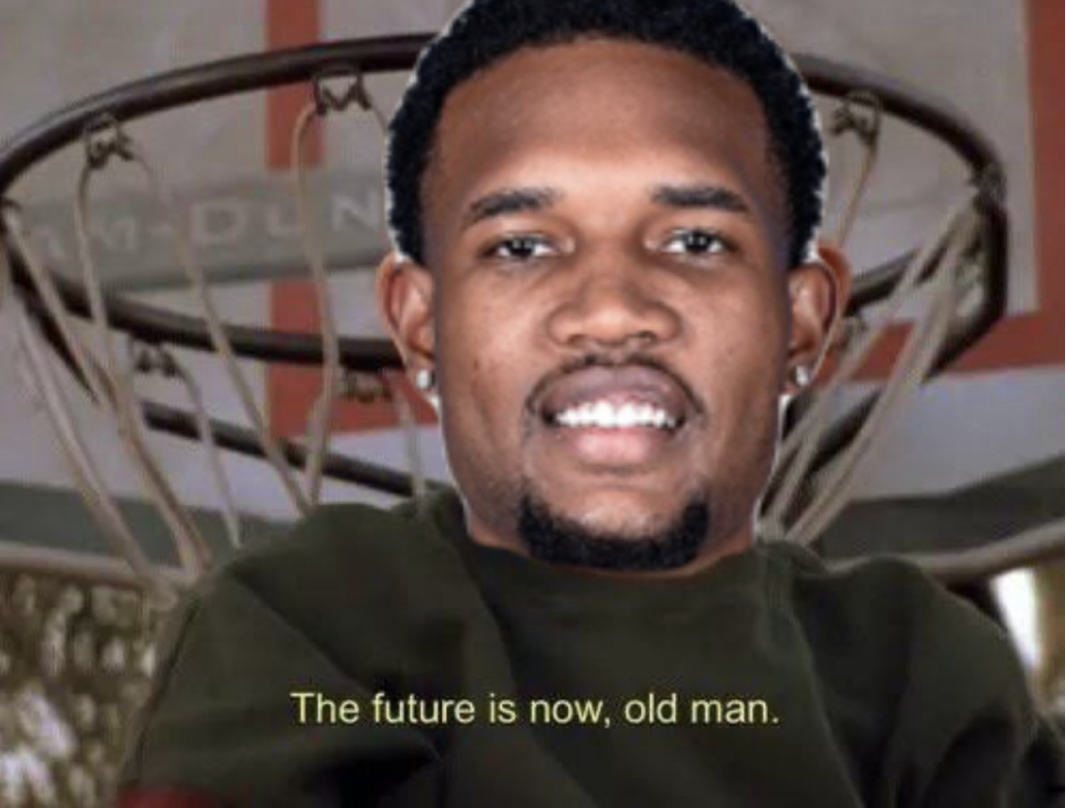 The future is now, young Cavs
(Authors note, I wrote this before it was announced that Mobley would be out 2-4 weeks with a shoulder injury, but I worked really hard on that Photoshop)
Going into this season, I wasn't expecting to watch many Cleveland games. The Cavs looked frisky behind their lead guards Colin Sexton and Darius Garland (collectively, SexLand) but looked more like a building team hoping that number 3 pick Evan Mobley could develop in the next 2 or 3 years. I was completely wrong.
Mobley had some obvious defensive upside coming out of college; a skinny 7 footer that moves like a guard and can defend every position. That's shown to be true in the start of his NBA career where he's routinely shutting down possessions. More often than not, a guard will pass to the other side of the court just to avoid Mobley if they find themselves 1-on-1 with him and his 7 foot 4 wingspan, because fuck trying to get past that. Combine all that with his absolutely beautiful jump shot and his ridiculous playmaking and you're in trouble.
The Cavs love a big game and have a habit of stepping up against better opponents. This may be teams underestimating them, but it's encouraging to see them taking wins from Denver, Charlotte, and Boston, when they came back from a 19 point difference.
Cleveland are sitting 5th in the Eastern Conference, where they could stay for a while until the Bucks get healthy and Atlanta figures out the reason the same team as last year looks like they've never met before. They're finally getting a taste of winning basketball after becoming an arid wasteland of basketball rejects post-LeBron, and they're going to fight and claw for a playoff spot. Keep an eye out for this team, they're going to have some more big wins.
Fancy yourself as a bit of a writer? Got some unqualified opinion and unwavering bias you'd like to share with the world? Send it through to dyor@hellosport.com.au to be featured on the site