Ranking The Aussie T20 Team by Who Will Last the Longest During World Cup Celebrations
DYOR Dave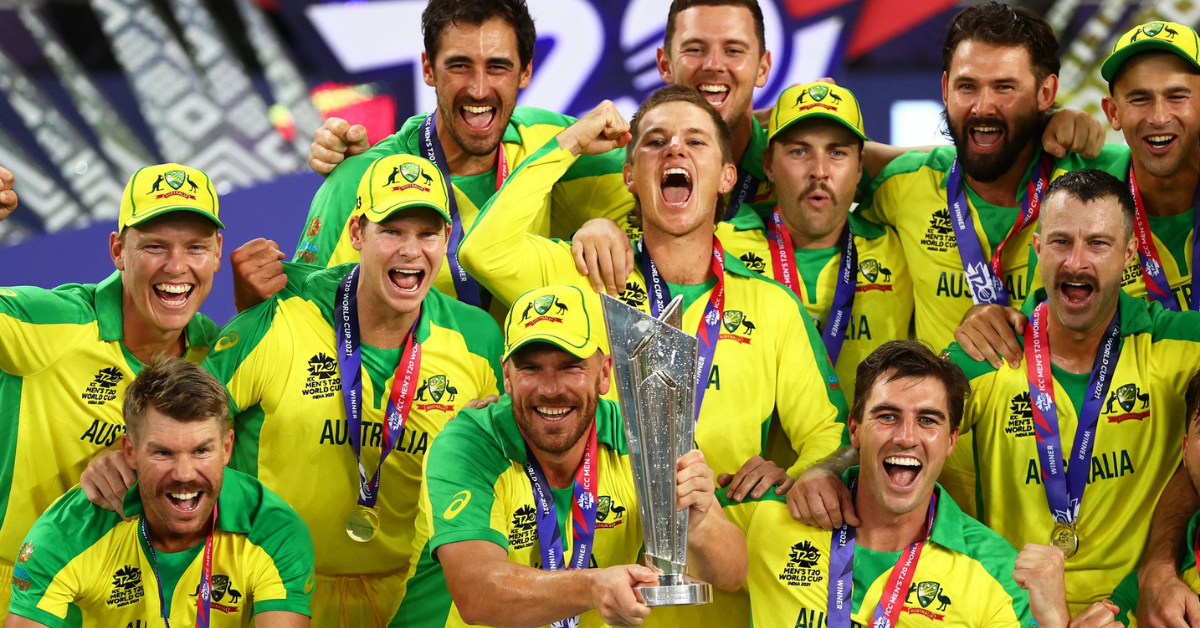 The hard work is over and now its time to rip and tear. Australia are T20 World Champions for the first time ever and the timing couldn't be better. With an Ashes series just around the corner, our boys are finding form at the right time and will no doubt carry this momentum into a 5-0 victory. With celebrations underway in the UAE, I thought I'd give the Punter and the Dribbler an insight into how the nights proceedings will go down.
11. Steve Smith
There are rumours circulating that Steve Smith treated himself to an entire block of top deck after winning the FInal, and while this might be extravagant and exorbitant by his standards, it doesn't compare to the ripping and tearing that will be done by his teammates – 1 hour maximum, lots of small sips of beer and an early night for more practice tomorrow.
10. Aaron Finch
After what can only be described as a bedshit of a series for the captain, these celebrations may be marred by the possibility that they'll be his last in the green and gold. Despite receiving a medal, the feeling of victory just isn't the same when you know you haven't pulled your weight – 2 hours, or until his vape runs out.
9. Dave Warner
Dave's gallant effort in the tournament means he'll last hours longer than usual at team events, plus the joy of the occasion means other players will be less embarrassed by his dance moves. After the initial novelty wears off, and he realises he hasn't got much to talk to the other players about, its likely he'll be heading home – 2 and a half hours, but he'll be scrolling through tik Tok after an hour
8. Mitchell Starc
Another man who will be dealing with a fair bit of head noise, Starc knows there are people who won't soon forget the 60 he conceeded off his four overs, most of those people being Shane Warne. Nevertheless, the 31 year old knows he needs to dig deep for the ashes and then he'll be able to rip and tear – 4 hours before the fox sports headlines start popping up and he heads home
7. Josh Hazelwood
A good country boy, Hoff will be sinking Crown lagers until the wee hours of the morning, but will inevitably pack it in, and ready himself for another hard days work tomorrow. He won't be the centre of attention, but he'll never be far from the action, selflessly passing beers around and looking after his mates. – 6 hours, most of it spent cleaning up and apologising
6. Pat Cummins
With great hotness comes great responsibility. Cummo plays a key role in the circuit strategy of the team, who require an alpha male to follow and attract a crowd. Those deep blue eyes can talk their way into or out of almost any situation, and the team will be begging him to stay out for as long as possible, just to catch some of the collateral aura – 30 seconds or 7 hours, depending on if he's trying to pull or not
5. Glenn Maxwell
Glenn Maxwell and T20, name a better combination. The man who hit the winning runs in true Big Show fashion will be gleefully flaunting his top-knot while relishing in the glory of his most prized possession. His enthusiasm and innovation will land him in good stead for the celebrations and any potential conundrums that may occur at kick ons – 8 hours, or until he smashes a window trying to reverse sweep a tinny into the esky.
4. Matthew Wade
He's spent most of his international career either injured on the sidelines or filling in for another player, so Wadey has spent the last two years of unexpected success in constant celebration.
A moustache of substance needs a substantial performance to back it up, and Wadey delivered beyond any shadow of a doubt. – 10 hours, or until his 33 year old body gives up on him
3. Adam Zampa
Reports indicate that the prestigious responsibility of the aux cable will be given to Zampa, meaning he'll have to keep up with the best of them in order to maintain an appropriate vibe. This task is no problem for Zorba, who will probably be happy lying under the stars or watching the sunrise vibing out with a bowl of special K. – Will keep partying until Stoinis tucks him into bed and kisses him goodnight
2. Mitchell Marsh
Not only did Swamp Junior Junior win the player of the match in the finals, but its very likely he may have just played his way into the ashes squad. If he doesn't perish early due to constantly being offered drinks to skull, SJJ will be there until the end, just as he was in the final. – As long as he can possibly rip and tear before he has to go into ashes camp, and maybe a couple more nights
1. Marcus Stoinis
MVP of the circuit, Stoin will no doubt be the last to shut the blinds once everyone is passed out at kick ons. You just know he's the type of bloke to crack everyone's nangs for them and not even complain as the frostbite takes over his hand – 3 weeks, finishing before the first ashes test so he's conscious to watch it.
Fancy yourself as a bit of a writer? Got some unqualified opinion and unwavering bias you'd like to share with the world? Send it through to dyor@hellosport.com.au to be featured on the site