The Best Theme Songs in Rugby League History: A Comprehensive Investigation
DYOR Dave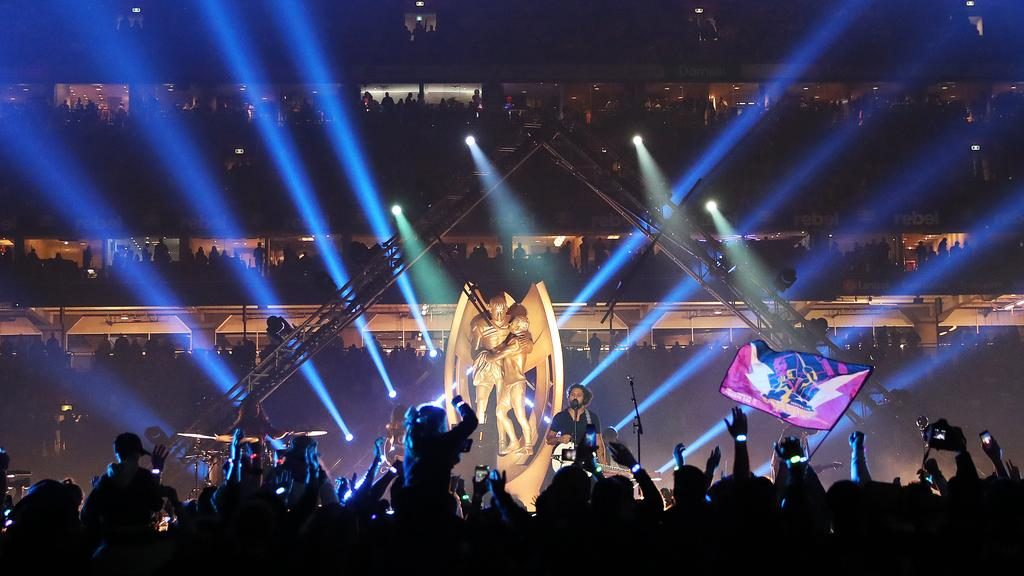 Let me take you back to a simpler time, a time still reminiscent to those of us old enough to remember when the footy show was actually funny, when the commentators had earned their spot in the box and before our great game was infiltrated by obscene branding, endless advertisements and overanalysis.
This was a time before Matt Nable's voice echoed around loungerooms to soundtrack whatever showdown was upcoming. A time when the opposing forces of Fox Sports and channel 9 could come together to celebrate the rarely unified voice of the Rugby League masses. This was a time when the Theme Song ruled supreme over the promotion of the game.
Sure, we've seen some great gee ups in the past few years, (who could forget Victor Radley dancing to Pub Feed by the Chats?) but in the current climate of rapidly transforming fads, cancel culture and a lack of harmony between the organisations that deliver us our footy, it seems unlikely we'll ever get to see another theme song take the journey with us all through an NRL season.
So, in honour of a bygone era, and of all the great memories from it that age like a fine bottle of rum, here are the top 9 Rugby League theme songs.
Two Tribes – Frankie Goes to Hollywood – 1997
1997 was arguably the most tumultuous time in modern Rugby League, with the ARL and Super League fiercely competing for superiority. As News Limited toiled away to bring down the ARL, their war cry had to reflect their intense passion and incite fire in the bellies of every piss drinking, footy kicking bloke in the country.
Naturally, they landed on an anti-conflict, 80s synth-pop song by an overtly LGBTI British band. If only News Limited were this progressive today! From a distance it makes sense, and I'm probably the only one critically analysing it, but the title of 'Two Tribes' seemed to be enough to get this song over the line and provide the soundtrack for the only Super League season to be played. Perhaps a better choice of theme song would have turned the tides of the Super League war, we'll never know.
Tom Jones – What a Game – 2000
It's the new millennium and people are optimistic about the future. The still-new NRL competition is growing into the behemoth it is today, and after the Storm stunned the nation by winning a thrilling grand final in their second year, the fans were hungry for more in 2000. What else to fire up the Rugby League masses than a cover of a 60s soul tune, sung by a man in his 60s?
Don't get me wrong, the sentiment was there and the message was true, but could they not find someone more relevant, more youthful and more Australian than the man behind 'Whats New Pussycat?' I'm sure it had nothing to do with the release of Jones' first album in 30 years and upcoming tour of Australia.
The saving grace of this song is its accompanying video, with scantily dressed women as well as big thick boys barely dressed in the changerooms, there's something for everyone. Featuring more old people yelling at Radios and TV than kids kicking the footy at the local park, this ad is certainly dated, but it will forever remain the theme to the new millennium of Rugby League.
Jess Mauboy – Something's Got a Hold on Me – 2013
Let's get one thing straight first, Jess Mauboy is a great indigenous role model and has had a positive impact on Australian society overall… but her music kinda sucks. Although should we really be expecting more from someone who came second in Australian Idol? She's no Shannon Noll, but I bet she's never told anyone she's going to "fuck your missus and your mum."
A talented indigenous singer covering a 60s soul classic would have been music to a music purists' ears, had it not been flogged to death on commercial radio for the last two years in the form of an EDM remix courtesy of Avicii and Flo Rida. Credit to the NRL, they nabbed a home-grown artist, who has genuine connections with the game, but they still missed the mark in originality and timing. Much like the 2013 season, where the roosters secured the minor and major premiership, this song is easily forgettable.
Feels Like Woah – Wes Carr – 2009
Another Australian Idol contestant, this time a winner. It's almost as if Channel 9 had some sort of influence in the NRL. This song moves us away from the more regrettable tunes in this list, with a catchy chorus that can spur on the spirit of a full footy stadium. Not only that, Wes Carr himself embodies the rugby league spirit, a hard-working Aussie battler who hit the big (not that big) time, then faded into obscurity.
With an ad that showed the tried and true combination of footy park kids evolving into NRL highlights (plus Mark O'Meley), the 2009 campaign showed promise for a great year, and it sure did deliver (at least I thought so anyway). Little known fact, Wes used to be in a band with Silverchair's Ben Gilles well before he ever auditioned for Idol.
Tubthumping – Chumbawumba – 1998
If there's any common feeling that can unite the fractured world of the NRL after the Super League War, it's the shared sensation of getting knocked down, and getting up again. 1998 was the dawn of a new era for Rugby League and as the newly formed NRL competition hoped to win over the nation, the choice of theme song had to not only reflect the feats of players on the field ("get knocked down, get back up again") but also their behaviours away from the game, ("Pissin the night away, he takes a whiskey drink, he takes a vodka drink, he takes a lager drink.)
The greatness of this theme song lies in the simplicity, and echoes a criteria clearly used in the decision making here, that should have been applied to all other song choices: 'Can you still belt out the chorus while poleaxed after a rugby league skinful?' If yes, you've found your theme, if not, keep looking. Maybe try any of Chumbawumba's other 18 albums, surely there's another hit there somewhere?
This is Our House – Bon Jovi 2011-2012
Ah the early 2010s, before NRL players thought they could make it in the NFL, before the Roosters started dominating, and before Todd Carney pissed in his own mouth. What a time. Bon Jovi's stadium rock anthem complemented the on-field spectacles of this era, and if you look past the fact that it was sung by an aging glam rock star who looks like Willem Dafoe's twin sister, it's actually a banger.
This theme hit all the right areas, with loud drums and guitars, lyrics to fire up a packed stadium and a video promo featuring flames, shockwaves and of course, Lote Tuqiri. The theme song delivered pleasing results, with both Manly and Melbourne taking home premierships under the guidance of John Bon Jovi. No complaints here in the studio.
The Boys are Back in Town – Thin Lizzy – 1985-1988
Another hard rocking anthem with an instantly memorable chorus that overflows with masculine metaphor and lyrics to buoy the boys. The Boys are Back in Town is exactly how every footy fan feels donning his jersey on Saturday night and meeting up with his mates for some pre-game schooners or post-game red-bulls.
The late 80s was a golden age for rugby league, the men could be tough and uncompromising, both in their playing style and off field antics. No one gave a second thought to reputation or role models, and the only post-game recovery happening in the sheds was the highly respected combination of beers and durries. It's almost as if Thin Lizzy had rugby league in mind when they wrote this song. "The drink will flow and blood will spill. If the boys want to fight, you'd better let them" could have been the games motto.
Simply The Best – Tina Turner 1990-1995
Let's face it, it was only ever a competition between two songs for the top spot, but in this humble dribblers opinion, Tina was simply the second best. This theme was so successful that the NRL recycled it for use again this year, and why wouldn't they? It builds suspense, its passionate, its uplifting, but most importantly, it describes what rugby league is: Simply the Best.
Turner was an unlikely symbol for the NRL, with her immense fame and success rendering her slightly out of touch with our semi-professional, bogan-centric sport. But with the help of Jimmy Barnes, who was clearly a rugby league player in another life, this song helped birth modern Rugby League and the greatness that surrounds it. Without this anthem the game wouldn't be where it is today, and we may still be competing with AFL, or even Rugby Union.
Hoodoo Gurus – That's My Team 2003-2007
Maybe it's my age, my taste or maybe it's just the overwhelming superiority of this song, but if ad campaigns could achieve immortal status, this would be first in line. For a young league fan growing up in the 2000s, a catchy and distinctly Aussie song about unwavering support for your club was the perfect soundtrack to nurture and develop a passion for footy.
Listening to it now brings back memories of greasy trading cards straight out of the chip packets, of ill-organised touch footy games in the school playground, and of trips out to Peter Wynn's Score to beg my parents for a Storm garden gnome or whatever piece of ridiculous merch the NRL were flogging to obsessed kids.
The Hoodoo Gurus tick all the boxes for a perfect theme, an Aussie pub-rock classic rewritten to suit the greatest game of all. A singalong so unique to our sport it could have only been written by dribblers themselves, and the passion of Dave Faulkner and his band for their love of footy shines through.
This song is as significant to its era of rugby league as Nick Politis' platinum Amex is to the Roosters. Seeing a respected band unironically perform an adapted version of their own song for a huge sports event usually reeks of sell-out energy, but witnessing the pure joy that the fans and band took out of the final performance, brings a tear to a footy tragic's eye.
This error message is only visible to WordPress admins
There has been a problem with your Instagram Feed.