It Only Took One Week of Rugby League and Already it Looks Like the War is Ending
DYOR Dave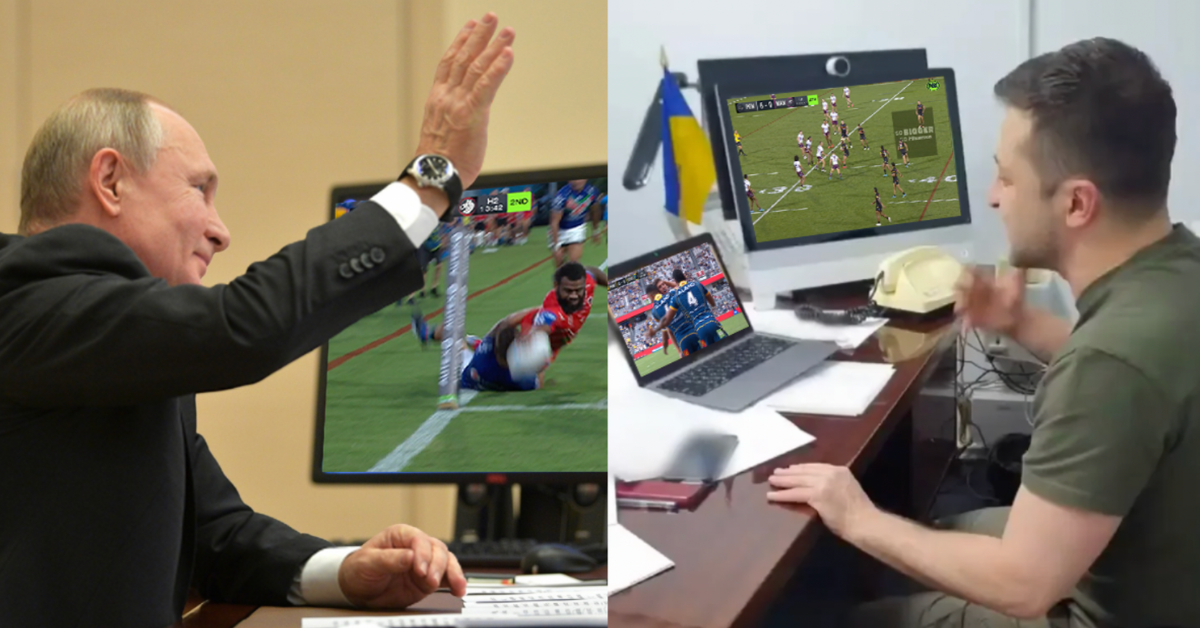 Since 1908 many have theorised that the great game of Rugby League could be the answer, and now there's more evidence than ever. Less than a month ago, dribblers around the world were anxiously watching as Russia invaded Ukraine, fearing that the conflict could spill over and have global repercussions. Now, as we eagerly await the second round of the NRL season, all signs are pointing towards a relatively peaceful resolution to this immense crisis.
Reports suggest that Russia and Ukraine are edging closer towards a neutrality agreement which could see an end to the bloodshed. I'm no geopolitical analyst, but it's plainly obvious that the opening round of Rugby League football in all its glory caused a shift in perspective from Vladimir Putin and allowed cooler heads to prevail.
The fake news mainstream media don't want you to know the solution to global conflict, because they have vested interests in the weapons and defence industries, but here at the Hello Sport Herald, we report on the facts, and it's there for all to see that Rugby League truly is god's game.
The stress of the off-season takes its toll on everybody and that anxiety can manifest in different ways. Everyone has their own ways to pass the time. some people watch cricket, others basketball, but it would seem that it makes some want to invade neighbouring countries and kill innocent people.
Now, with the return of the season, the days feel complete again. A structured week of HSP on Mondays and Thursdays, lineups on Tuesdays, dribble Wednesdays and Thursday – Sunday pure bliss. The ambivalent wandering of weeks in the off-season is now over, and the easy satisfaction of outsourcing your internal calendar to the footy schedule sets in.
After a weekend of hard-hitting footy which included more upsets than you can throw a grenade at, Putin was relaxed and calm, allowing him to come to the table for peace talks. The entire conflict may have been resolved by Sunday night after an exciting match that saw the Eels beat the Titans 32-28. Unfortunately, the dreadful bottom 8 footy of the Bulldogs v Cowboys match left the Russian President unsatisfied.
But after a week of absolute dribble that included the Mayo Man Buzz Rothfield apologising on air one night and then exploding in a tirade against a fellow panelist the next, a neutrality agreement looks likely. Dribblers around the world are praying for a top-quality weekend of Rugby League, which could ultimately bring peace to Eastern Europe.
Fancy yourself as a bit of a writer? Got some unqualified opinion and unwavering bias you'd like to share with the world? Send it through to dyor@hellosport.com.au to be featured on the site
Check out the Latest Hello Sport Podcast episode #347 – Stargazers