A Dribbler's NRL Off-Season Gradings: Part 1
by Finn Stephens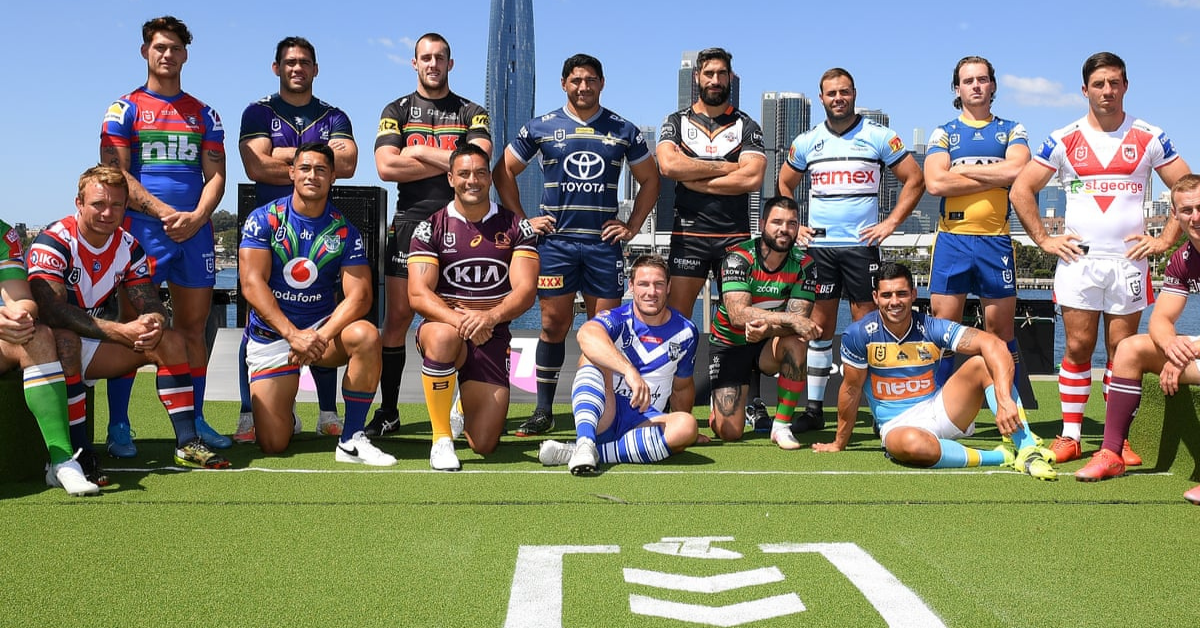 Well, here we are. As we look back on the 2021 NRL season in the rearview mirror, we find ourselves in this awkward time before the summer of cricket where the punter and dribbler are yearning for some sport to yarn about. Apparently, there was rugby union on the other night, but honestly who the fuck knows. And who the fuck cares. This sporting hiatus leaves only one logical thing for a dribbler like myself to do, which is to cast my untrained and very unqualified eye over each team and grade them on each of their respective off-season's. Extra mayo included of course.
Brisbane Broncos B+
There's something brewing north of the border. As any Broncos fan will attest to, it's been a hard slog the last couple of years as they have descended in dramatic fashion to the cellar dwellers of the competition. Something that has stood out has been their leadership, or lack thereof, that has had fans growing extremely worried. 
Mix that with the colossal overs they have paid for players such as Milford, Lodge and Tevita Pangai and the release of Reece Walsh of being selected for origin after 8 games fame, it's been a forgetful stretch for the once-proud Broncos. A positive is their roster is filled with young throbbers, such as Staggs, Haas and Carrigan who just need a big dick to follow around. Well, they've got themselves one in Adam Reynolds. After leading the bunnies to the big dance, Reynolds was amazingly released in a bed shit for the ages, prompting the Broncos recruitment to swoop and get the leader they have been after.
 Reynolds, paired with Origin backrower Kurt Capewell who loves receiving good nut through holes (DYOR, or don't…) and the steely Ryan James add some much-needed experience in Brisbane. Couple that with the acquisition of capable outside backs Jordan Pereira and Brenko Lee and the Bronx have had themselves a sterling off-season. Sure, they won't be competition juggernauts straight away. Sure, the loss of Xavier Coates to a Melbourne Storm system that creates stars out of fringe first graders, let alone Origin stars, may well haunt them for years to come. But hey, you've got to start somewhere right?
Canterbury-Bankstown Bulldogs – A
Now, you Broncos' fans think you've had it hard? Spare a thought to the poor Doggies fans, who have had next to nothing to cheer about in what seems like forever. On top of picking up another spoon for the cabinet room this year, they lost arguably their best two players in Adam Elliot and Adam Elliot's hog to a couple of classic rugby league scandals which poor Adam had no involvement in. But as we know, the hog has a mind of its own. Pair that with the sacking of Lachlan Lewis through the worst joke of all time, with further investigation alluding to young Lachlan deemed stealing whilst looking for an extra quid on eBay. I found it surprising that the Bulldogs frowned so heavily at Lewis' act of theft, as Trent Barrett had been stealing pay cheques all year as he impersonated a head coach and no one batted an eyelid. Sorry Baz, but with the greatest respect, I just don't think you get coaching. But, the Bulldogs got a man who does. 
Phil Gould, who we all know to be a fucking operator, joined the club and has already brought in some big names. Villiame Kikau and Reed Mahoney have both been acquired for the 2023 season and are massive coups in their respective rights, Mahoney in particular. The Dogs have yearned for a quality rake and they have nailed it on the head with Reed. While I may have been harsh on Barrett, I can't knock his decision to sign Matt Burton, who in my opinion has what it takes to be one of the stars of this decade. He's a footballer this kid. Pair him with representative star Josh Addo-Carr, former Australian thickie Paul Vaughan of Vaul Paughan fame, little Matt Dufty and Tevita Pangai Junior and the Bulldogs look very much on the up. They still desperately need an established halfback, but these next couple of years could start something special in Canterbury.
Canberra Raiders – C-
The Raiders are built on resilience, durability and toughness, but not enough of these qualities were shown during their dismal 2021 which was evidently impacted by the loss of Englishman Jonneh Bateman and Georgey Williams. With countless Ricky blowups, we saw a team that had so much promise just look so painfully mediocre it hurt. Therefore, with no notable losses going into 2022 bar Williams, the Green Machine were in the market for an experienced and hardened halfback and they found him in former Titans captain Jamal Fogarty. Fogarty should complement the spine of Wighton, Charnze Nickoll-Klokstad and as for Hodgson, well, if he passes to you 50% of the time that's the best you'll get. If you don't get what I mean, watch any Raiders game last year. Pass the ball Josh!! Bringing in Adam Elliot and his accompanying hog for unders is another smart move by the Milk, bolstering an already strong pack. With the resigning of some real talent in Sebastian Kris, Xavier Savage and Hudson Young, 2022 should see the men in green return to former glory. For our sake and for Ricky's.
Cronulla Sharks – A+
This is how you off-season. That we do know. Off the back of an underwhelming year in the Shire, where head coach John Morris was sacked in a shock mid-season move which brought in professional care taker Josh Hannay to steady the ship, there wasn't a whole lot to take from 2021. Losing Shaun Johnson wasn't ideal, but with the money freed up between him, Aaron Woods (Dragons) and Josh Dugan (Retired) the Sharks hit the open market with bills falling out of their pockets, resembling Tom and Eddy with the corporate dollar. Coupled with the signing of new head coach, the highly touted Craig Fitzgibbons and a lot of lead was starting to fill up the Shire faithful's collective pencils. The pencils near exploded at the announcement of Dale Finucane and Cam Mccinnes hopping on board, bringing on two men you can bring home to Mum and Dad. These blokes will tackle their dicks off, have captained each of their respective former clubs and are Origin players every day of the fucking week. The next signing had made the Shire's pencil so full of lead I'm pretty sure it is in the same company as Timmy Paine's a few years ago, as Nicho Hynes of always wet hair fame signed on for 3 years. With the resigning's of names such as Rudolf, Tracey, Kennedy, Trindall and Talakai, the Sharks are showing the rest of the NRL how the fuck to off season. Be careful of the men from the Shire, they could be in with a real sniff.
Gold Coast Titans – C
As a staunch Titans supporter, I'm still conflicted as to whether 2021 was a success. Sure, we made the 8, but we made it with the worst record of any team to do so. Our big-name players mostly delivered, with Tino and Fifita largely carrying us through the year. Unfortunately, with the amount of cash spent on last year's signings, the Gold Coast don't have much to report on. A couple of integral losses to the side, such as skipper Jamal Fogarty and Tyrone Peachey hurt but are mostly sweetened by the resigning of some absolute young stars -Aj Brimson, Moeki Fotuaika, Jayden Campbell and Brian Kelly all extending their stay on the glitter strip. Aaron Booth, of backup to the backup to the backup number 9 at the Storm, has a chance to own the hooker role. That is unless the Cheese signs on. If your reading this Smithy and I know you are, come to the Titans mate. You'll love it here. A C may be a tad bias some may say, but you didn't come here for expert analysis, did you?
Manly Sea Eagles – C+
Manly have been quiet on the recruitment front, but what do they need? When you've got a Tommy, everything else falls into place. With no note-worthy inclusions into their squad (Ethan Bullemor if you are really desperate), Manly have looked to their own backyard and resigned a bunch of their elite young core. Schuster, Harper, Garrick, Olakau'atu and Keppie just to name a few. They get docked a few grades on the dribbler scale due to some notable losses – Cade Cust, which could hurt them in the future when he returns with a couple of Man of Steel, Curtis Sironen who still has some good footy in front of him but chased crumpet and Moses Suli of rugby league handful fame. Whilst they have cover in these positions, Manly could find themselves struggling for depth at times as injury and the inevitable Origin selections for these young throbbers come about. Still, it's a very good time to be a Manly fan.
Newcastle Knights D+
Joey's back. It just feels right. That's about all that feels right at Newcastle at the moment. On paper, the Knights are still a top 8 side. After their 2021, which was if I can so eloquently put it – meh, the Knights needed to make some big moves. I'm not sure an aging Dane Gagai and Dragons backup half Adam Clune are in fact those big moves. While the resigning of a host of stars such as Bradmen Best, the Saifiti brothers and co-captain Jayden Brailey paint a pleasant image, the losses of Mitchell Pearce and Connor Watson do not. An aging Pearce has gone abroad to the famous Catalans Dragons to chase crumpet, whilst Watson was caught up in apparent hardships in his relationship with the new prince of Newcastle, Kalyn Ponga. Whatever the reason for Watson's signing with the Chooks, he is a massively underrated loss to the Knights who need his attacking flair and defensive passion. With the Knights attack severely underwhelming in 2021, the Ponga and Dolphins rumors circulating and losing two of their most integral players, I worry how much the people of the Hunter are relying on Joey. 
Wests Tigers – D
I don't know if I could even be bothered. News flash – the Tigers are shit and will continue to be shit for the foreseeable future. The Tigers 2021 was another forgettable one, as the same culprits played average football that resulted in average results. The Tigers don't look like rectifying these results anytime soon, with their only pickups of note being Tyrone Peachey, Jackson Hastings and Oliver Gildart for 2022. Isiah Papali'i is a brilliant signing for 2023 but worries me in the sense he will be in a team that is so diabolically bad, he will just have to tackle all 80 minutes. Losing Luciano Leilua isn't ideal but shedding the enormous contracts of Moses Mbye and Russell Packer must bring a sigh of relief to the DMC Tigers. They have to get a big name soon. If not and Jackson Hastings isn't a raging success, the Tigers are on their merry way to have another poor season. It's a lot of pressure on young Jackson. At least he has Luke Brooks.
Fancy yourself as a bit of a writer? Got some unqualified opinion and unwavering bias you'd like to share with the world? Send it through to dyor@hellosport.com.au to be featured on the site