Ranking Every Grand Final Musical Performance Since 2000
DYOR Dave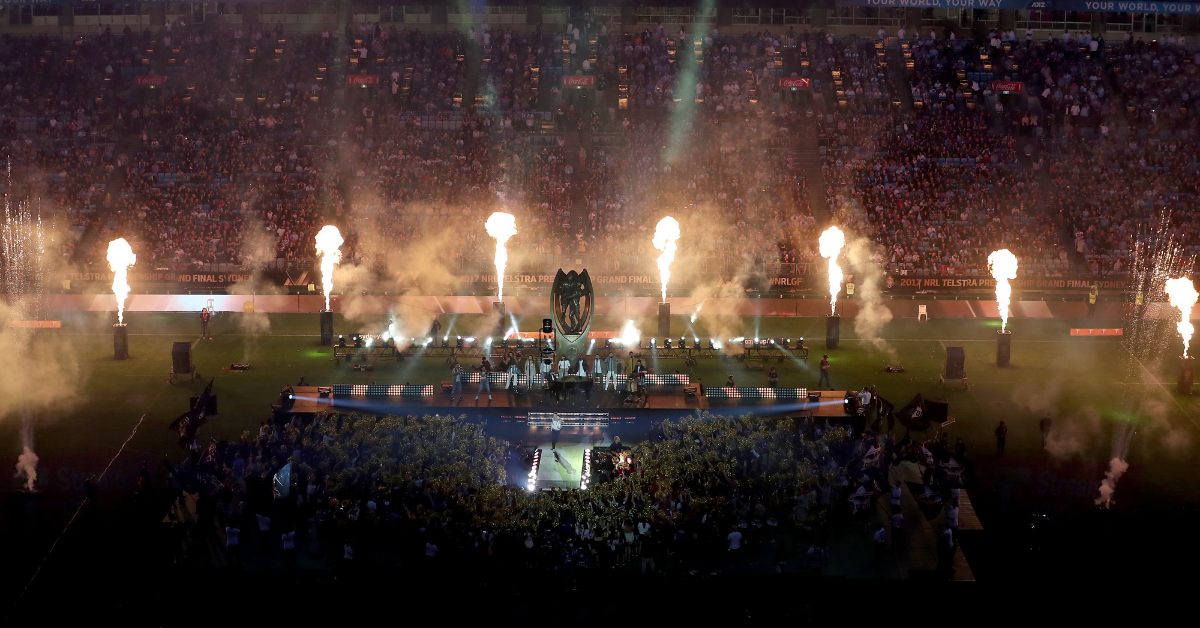 As we prepare ourselves for another Grand Final, the NRL has once again treated us to a "star-studded" lineup headlined by the worlds most famous Trumpeter/DJ Timmy Trumpet, and fellow DJ's who peaked in the early 2010s The Stafford Brothers. Joining them will be Ian Moss and Kate Miller-Heidke, two well-respected and successful musicians whose presence saves this lineup from being completely unbearable.
The NRL has had a troublesome history with its pre-match entertainment, with some big hits and even bigger misses. I thought it's about time that someone empirically ranked these performances based on the metrics of relevance, appropriateness for an NRL final, and overall quality. So without further ado, here we go.
21 – Ricky Martin, Jess Mauboy 2013
Where better to start than a Channel 9 cross-promotion for The Voice featuring a washed-up pop star and Jess Mauboy, who has appeared at more Grand Finals than 14 clubs since 2010. Livin La Vida Loca was tacky even by 2013 standards.
20 – Tom Jones – 2000
Tom's only saving grace was that he was responsible for the current NRL Theme song "What a Game," but apart from that, the "What's New Pussycat" singer looked rather out-of-place at the GF.
19 – Good Charlotte, The Script – 2012
Back again with a Channel 9 sponsored performance, Both bands achieved their peak of fame in the 2000s, with Good Charlotte by this stage more well known for their KFC and Vodaphone ads than their music
18 – Billy Idol – 2002
For all we know this could have been near the top of the list if it hadn't so memorably failed when a power outage struck the stadium. What could have been?
17 – Amy Shark – 2020
This one comes to you courtesy of Sony Music, close partners of the NRL. She may have been popular and a Queenslander, but emotional pop music wasn't the atmosphere that the GF needed.
16 – OneRepublic, Darryl Braithwaite, Christine Anu – 2019
Another band that saw success in the 2000s, OneRepublic's performance, which included a Beyonce cover, was somewhat salvaged by the reliability of crowds to get around the other two quintessentially Aussie performers
15 – Kelly Clarkson, Eskimo Joe – 2011
It's hard to go wrong with Aussie rock, and Eskimo Joe provided that, as they did for the AFL this year, but Kelly Clarkson suited the occasion even less so than her first GF appearance 8 years earlier, but we'll get to that
14 – Justice Crew, Jess Mauboy, You Am I, Dan Sultan, Phil Jamieson – 2010
Bit going on here, I've seen Justice crew perform at a barmitzvah, so it'll take more than this to impress me. The all Aussie lineup featuring three stalwarts of the local scene manages to counteract the inherent ties to Channel 9's reality shows that Mauboy and Justice crew bring.
13 – Grinspoon, Chris Isaak – 2004
The popularity of Grinspoon amongst the Rugby League loving population made them a near-perfect fit for this gig, so naturally the NRL had to balance that out by booking a 50-year-old American crooner to join them.
12 – Kelly Clarkson, Meat Loaf, Hoodoo Gurus – 2003
I'll concede Kelly Clarkson was probably a big get in 2003, and there's few bands that represent Rugby League like the Hoodoo Gurus do. Let's just be thankful Meat Loaf saved his most memorable performance for the AFL Final.
11 – Keith Urban, Richie Sambora, Orianthi – 2016
Australia's country music darling, the second most famous member of Bon Jovi and Adelaide Shredder Orianthi teamed up for a performance that, while not brilliant, didn't disappoint. A sound performance from a lineup that excited no one really.
10 –  Macklemore – 2017
Macklemore isn't the first artist you think of when it comes to a collision sport like league, but with the nation having just passed marriage equality laws, this was a rare and proud moment where Rugby League was at the forefront of social responsibility, plus I guess the kids like him too.
9 – The Living End, John Stevens – 2008
The Living End could play just about any sporting event and not look out-of-place, despite the fact they have a double bass in their band. Pair that with an 80s rockstar turned musical theatre actor, and you've got yourself a half-decent performance
8 – Slash/Train – 2014
The Venn diagram of people who listen to Slash, Triple M and watch NRL is almost a circle, it's just a pity the NRL was too cheap to fly in his band, so he stood awkwardly playing guitar melodies to a backing track. Fans were also treated to the soothing tones of "Hey Soul Sister," not quite a rugby league anthem.
7 – Cold Chisel, Jess Mauboy – 2015
It's hard to fault the NRL on this one. Despite their age, Cold Chisel are still an ornament to the game and our nation at large. Jess Mauboy featuring again as both a nod to channel 9's corporate influence and the indigenous fans of the game. Does the NRL know there's more than one indigenous artist in Australia?
6 – Jimmy Barnes 2001
More Jimmy! And this time even younger. The NRL went simple for this one, and it paid off. Fans were expecting classic hits from Jimmy Barnes, and they got it. A great lesson in expectation management from the NRL.
5 – The Veronicas, Pete Murray, Bodyjar – 2005
Amazingly, the NRL managed to feature music from across the spectrum of rock, pop and folk, that was all Australian, and still culturally relevant. Bodyjar may have faded into obscurity more than their counterparts, but their raw punk energy suited the occasion perfectly.
4 – Wolfmother, Wes Carr, The Script – 2007
Little known fact but Wolfmother actually attend every sporting game in Australia to perform Joker and the Thief as players run out. This grand final offered them the opportunity to do the same but on a stage instead of in the change rooms. Throw in The Script at their peak, Wes Carr's surprisingly catchy theme song "Feels Like Woah," and a Storm victory over Manly, this could be one of the all-time great grand finals.
3 – Hoodoo Gurus, INXS – 2006
Despite the tragic death of Michael Hutchence, INXS powered on with new lead singer and reality show winner JD Fortune. They joined the Hoodoo Gurus for a memorable grand final performance that few can fault, apart from the continued appearance of reality TV stars on the Grand Final stage.
2 – Gang of Youths, Darryl Braithwaite – 2018
Surprisingly few acts have worn NRL jerseys while performing, and very few of those were genuine in their support for said team's jersey. Gang of Youths fit in this slim minority and are a terrific representation of the modern game. With members from Fiji, New Zealand and Western Sydney, Gang of Youths brought energy, inspiration and love for the game. I can still remember the literal goosebumps I felt watching that, and have felt the other 5 times I've seen them live. Also, can't go wrong with a bit of a 'Horses' singalong.
1 – Hoodoo Gurus, Shannon Noll, Vanessa Amarossi – 2007
The Hoodoo Gurus playing "That's My Team" for the last ever time is sure to bring tears to the eyes of any NRL fan. Add in Aussie icon Shannon Noll and Vaness Amarossi of "Absolutely Everybody" fame, and you've got a heart-warming, exciting and appealing performance that is worthy of such a big occasion.
Fancy yourself as a bit of a writer? Got some unqualified opinion and unwavering bias you'd like to share with the world? Send it through to dyor@hellosport.com.au to be featured on the site