Does Craig Bellamy Even Care About the Minor Premiership?
DYOR Dave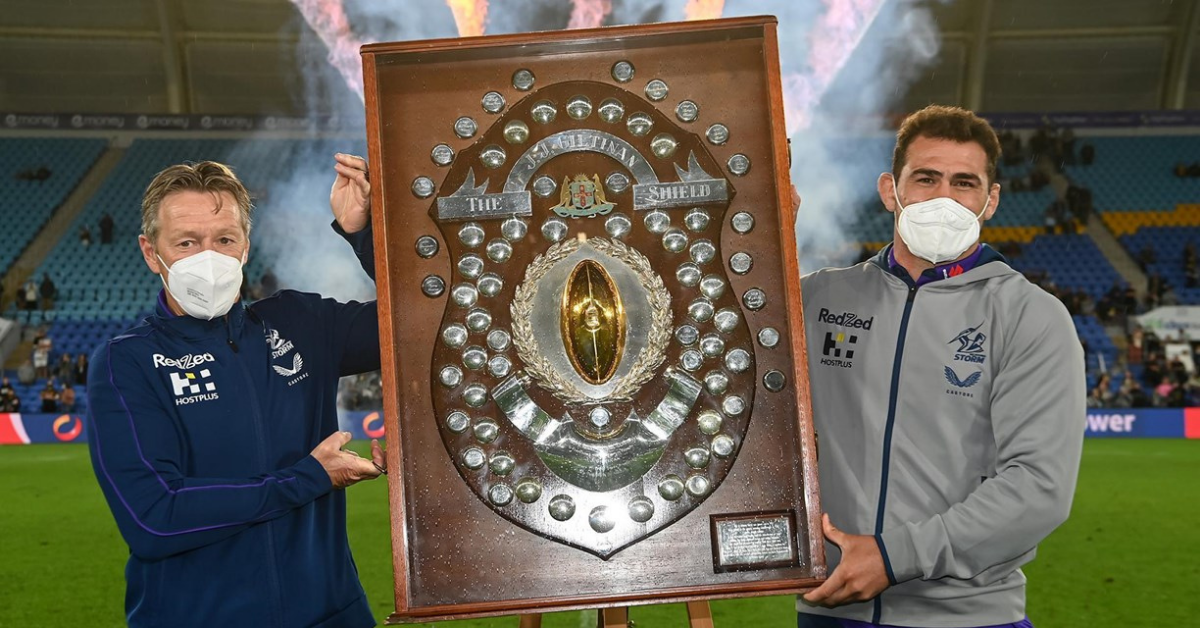 Craig Bellamy has just won his fourth minor premiership in six years, and his eighth with the Storm. He's used to walking past the JJ Giltinan shield on his way to brekkie, and kissing it goodnight before he goes to sleep, but this season has seen a breakdown in the coaches relationship with the shield, as Craig seemed to do everything in his power to try not win the minor premiership.
Before we get into last night's game, let's go back to round 23, where the Storm were looking to equal the 1975 Roosters win streak of 19 games. Instead of putting forward a full-strength lineup, Craig decided to rest arguably his two best players, Jahrome Hughes and Brandon Smith. A week later, when the storm looked to break the record and secure the minor premiership, Craig again decides to experiment, giving Isaac Lumelume his first match in over a year, and starting Harry Grant for his first 80-minute performance since the infamous Origin I.
Perhaps Craig wanted the pressure and attention off his club coming into the final, or maybe he enjoys the podcast so much he would feel bad about facing Manly in week one and thrashing them, but when the minor premiership was again on the line last night, Craig decided to hold back his best weapons. Cameron Munster, Josh Ado-Carr and Christian Welch were all left out of last night's squad, and with their season on the line, many were tipping a Sharks upset.
What is abundantly clear here is that it's harder for Craig Bellamy to lose a game than it is to win a game. He managed to secure a shock loss to the Eels by reportedly spending half time playing a solo acoustic guitar version of AC/DC's thunderstruck that he had been practicing only since the start of the weekend. The players were understandably confused and distracted, leading to the uncharacteristically poor second half. Unfortunately for Craig, he had planned for Scott Morrison to attend the Sharks game last night and give the halftime speech, but was canceled on at the last minute, resulting in a second-half blitz and a Storm victory.
Bellamy's ambivalence towards the shield was visible in the presentation, as everyone except him and co-captain Dale Finucane remained in the sheds, barely celebrating and already looking towards next week. He couldn't even be bothered getting both his co-captains out to life the shield, and from the looks of it, barely cracked a smile beneath his mask.
While Craig may be solely focused on the goal of winning the grand final, maybe added incentives would help turn the minor premiership from an unwanted burden, to a coveted title. Currently, the prize money for a minor premiership is $100,000 or, around 200 speaker systems sold on eBay. The NRL should at the very least increase this amount, to properly reward the best team over 25 tough weeks of Rugby League Football.
Alternatively, the 8th immortal has suggested a different reward for the minor premiers. In true Joey style, he reckons the top 30 squad should receive a free trip to Las Vegas as a prize for winning the minor premiership. Not only would this be an adequate reward for months of hard work, and a massive attraction for players to work towards, but it would provide days worth of scandals and Rugby League content that is sure to satisfy the Punter and Dribbler for the entire offseason.
Bellamy's attitude reflects the feelings of many Storm fans who have lived through this dynasty of unparalleled success. The truth is many of us have become numb to the feeling of success. After a premiership victory last year, and 19 wins in a row this year, it takes more to get a storm fan aroused than it does an average dribbler. Throughout the season, close victories have seen storm fans finish games with more worries than joys, and a win by less than 30 points has become a disappointment for the club. The minor premiership isn't even worth getting out of bed for anymore, call me when the grand final comes.
Fancy yourself as a bit of a writer? Got some unqualified opinion and unwavering bias you'd like to share with the world? Send it through to dyor@hellosport.com.au to be featured on the site