A Love Letter to God's Winter Game
by Kicking Tee Dribbler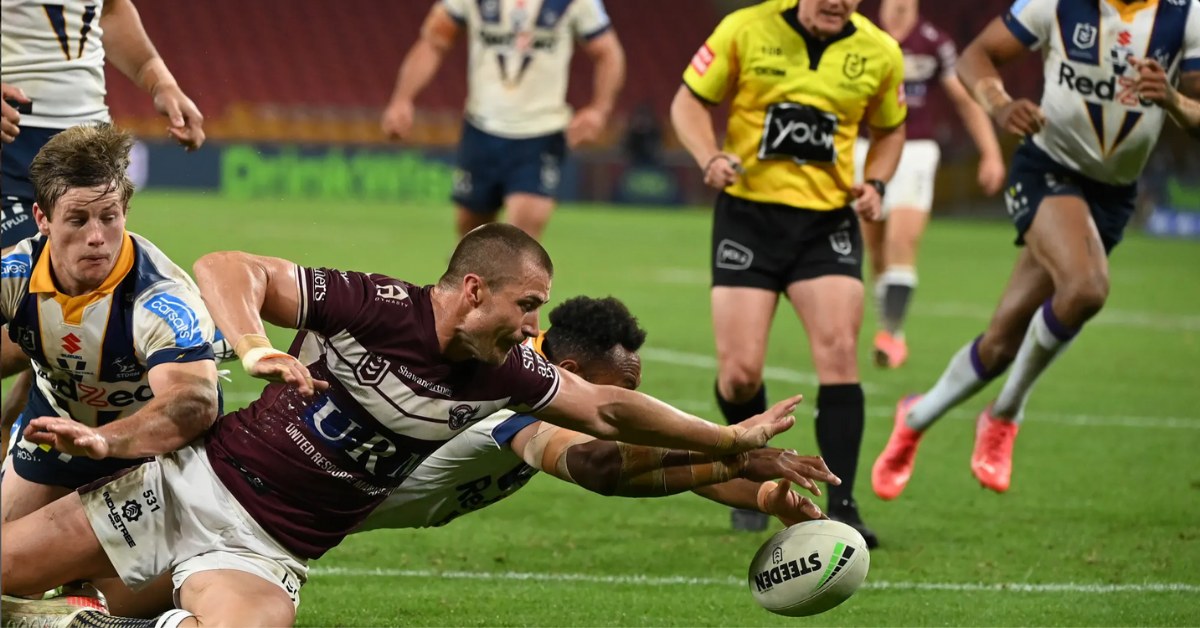 It's 3:23 pm on a Sunday. You've got chores on your list but you become distracted. A true Sunday blockbuster catches your eye. Dragons vs Tigers. The sight of Blake Lawrie trucking nut and Luke Brooks kicking it out on the full is enough to convince you to put the lawnmower away and tuck into Sunday league. Aaron Woods comes off the bench to drop the ball, soon after Cody Ramsay attempts some aerobatic footy and Vossy chortles "He's trying out for the Olympics!?". The game is awful. The Tigers play some of their best footy in years. The Dragons win, 20-8.
Rugby League, I miss you.
You went out on the town last night. In between slobbering over a Bloke you catch two of Pap's three tries as the Storm smoke the Bulldogs: 38-4. Blocker starts the broadcast claiming "They're in with a chance here the Doggies!". They were never in with a chance. The Dog's play the second half with 12 men, after Jack Hetherington removes Jahrome Hughes' head with a swinging arm that could blind a man. More fodder for Monday night NRL 360. You spot a Dribbler in a black cap and you head over for a chat.
Later that evening, while your head spins with a bag of Maccas on your lap, you decide the only cure for a hangover is more Rugby League. You log into NRL. com and watch six reels of match highlights. The internet steers you down a deep well of State of Origin's Greatest Biffs which inevitably leads you to Luke O'Donnell spearing Darius into the ground in 2010. It serves as the perfect lullaby for a good night's sleep.
Rugby League, Oh how I miss you.
Monday at work. Some thin hips coworker with a metabolism you're jealous of tries to "talk sports". He tells you he went to the 'Swannies' game on the weekend and it was "really good"'. You nod politely but you're not really listening. Your mind is occupied with the conundrum of the NSW back row. Will Freddy go with Yeo, Sims and Murray again? Or go rogue and hand a jumper back to Frizell? These Blatchy Blues maths keep your brain occupied until you get home and switch on the TV for Monday Night NRL 360. Buzz and Hooper debate whether Brad Arthur has lost the dressing room and Yvonne Sampson keeps them on topic like a school teacher babysitting toddlers.
Ahhh a Rugby League talk show, I miss you.
P's and D's, it's 32 days until the Steeden is put back on the Tee. Five more Sundays until you can tune into Madge screaming into the perspex at Netstrata Jubilee. And 890 hours until you can spend your Monday night watching Buzz, Hooper and Yvonne debate whether a 9-match suspension is adequate for a young, hot throbber recently caught urinating on a cop car.
I for one cannot wait. God's Winter is coming.
Fancy yourself as a bit of a writer? Got some unqualified opinion and unwavering bias you'd like to share with the world? Send it through to dyor@hellosport.com.au to be featured on the site
Check out the Latest Hello Sport Podcast episode #336 – Germs of the Earth