ABSOLUTE DRIBBLE: Bring Back the Big Balls Dance for NBA Week 6
by Joseph Murphy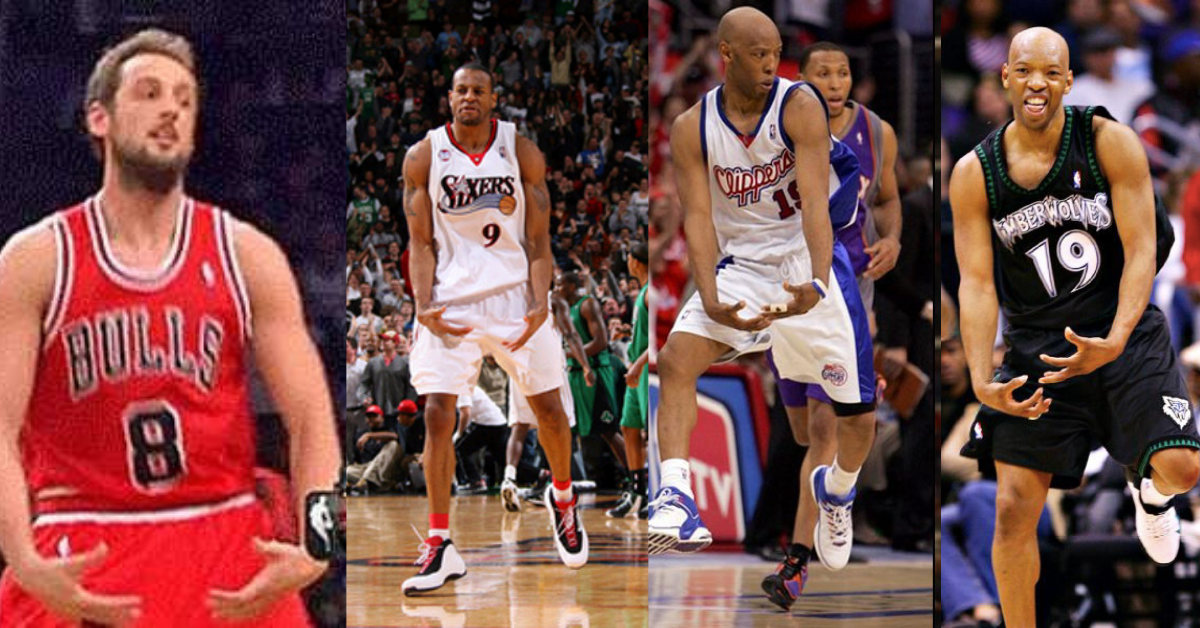 We're basically at the quarter mark of the regular season, the official endpoint for the 'small sample size' argument which has been so handy at avoiding accountability for being wrong. The next few weeks are a bit of a lul for the NBA as the best teams start pulling away from the pack and the garbage teams start to cast themselves adrift. 
No teams have truly given up on what they dreamt of being at the start of the year (OKC and Houston planned to be this bad), but the Kings are showing signs of a very quick unraveling.  After firing coach Luke Walton just over a week ago, they managed to beat Portland and then the Lakers in triple overtime. I don't think those wins were much more than the team trying to show they're better off without their ex, single and ready to mingle, but they're at least some good news for a franchise that has had an awful last 20-or-so years. I'm not going to pretend to know how to solve the Kings' problems –  unless the answer is to just put the poor franchise out of its misery by taking it out the back and shooting it.   
Phoenix are making basketball look easy
Picture this: you're slumped on the couch, watching the afternoon session of day 3 of a test match, your hangover finally fading and the first signs of a cheeky nap start emerging, just for some uneducated dribbler to say "I don't get, why don't they just hit 6s every ball?" There's a twist of anger and respect for the great tradition of the contest of test cricket that can really give you the energy to ruin your misso's afternoon. For basketball, the same statement would be "I don't get it, why don't they just hit every shot?" If they did, they would be this year's Phoenix Suns. 
Theoretically, basketball is an easy sport: move the ball, get it to the open man. If you can't, you've probably run around enough that there's a mismatch somewhere to exploit and you can have a big guy bully someone a foot smaller than him, or a guard sprint past a 7 footer whose turning circle is just as wide. Except running around for 48 minutes sucks, defense is too tiring, and setting a screen is basically an invitation saying "hey, run straight into me as fast as you can, don't worry, my hands are by my side". Right now, the Suns are playing basketball like it's as easy as just hitting a 6 every ball in cricket. 
Devin Booker floating around off-ball is a thing of beauty. He's always darting around screens, throwing off his defender with elite footwork, or just straight up shoving them into the behemoth that is DeAndre Ayton and cutting into space. The gravity of Booker always moving just makes things happen for everyone else and who better to capitalise on a defender too preoccupied with "oh fuck – where's Booker going" than Chris Paul? 
One of the reasons this team isn't getting the raucous praise most teams on a double-digit streak get is that you can't nail down their offence to one category. Like the Nets offense is good because Kevin Durant can hit any shot the human brain is capable of imagining. The Suns' offense is good because it rarely goes wrong. For one of the greatest point guards of all time, there's a bizarre lack of praise for the way Chris Paul has this team moving together on a string. Any time a defender is half a step too slow or misses a rotation slightly, Paul's already thrown the perfect pass to the open man. 
Last time we checked in on the Suns they were on a 9 game streak heading into back-to-back games against Dallas. That streak is now up to 16 and they have the chance to make it through all of November undefeated when the Warriors visit tomorrow. When the Warriors have been faced with a challenge this year they've stepped up their defence and crushed teams like the Bulls and Nets in the third quarter. Except right now it feels like Phoenix are making every shot they attempt. 
Phoenix are making themselves comfortable amongst the truly elite teams in the NBA and are proving that last year's finals appearance was more than just a fluke. If things go wrong for me personally and they beat the Warriors twice, this streak could be at 20 very soon.
Figure 1: Lebron James reminds Indiana to speak to their Doctor via Pilot
Let the boys celebrate
There's no doubt that professional basketball is the realm of the showman. This is a sport where, if he's a big enough star, one guy can repeatedly call plays for himself at the end of a game. If that guy goes on to win the game on one of those plays, he should be entitled to celebrate in whatever way he desires. However, sometimes the league gets in the way. 
Generally, the NBA isn't as bad as other pearl-clutching leagues like the NFL, where the display of human emotion is strictly prohibited. For some reason, the league does have it out for the much loved 'Big Balls Dance'. The Big Balls Dance is pretty self-explanatory –  you dance as if you have absolutely massive balls. It's saved for an occasion where a player hits a particularly clutch shot, the kind of shot that silences an opposing crowd. Recently, LeBron James and Fred VanVleet were each fined $15,000 for expressing the size of their relative nut sacks following dagger 3's. One might argue that Lebron's dance was a touch less comical than the typical Big Balls Dance, more of a gesture of 'Indiana, check out my hog', but I'm not here to critique form. 
The Big Balls Dance was a more-common celebration during the mid-2000's, until former commissioner David Stern, who hated anything fun and cool, designated the Big Balls Dance as an 'obscene act' worthy of excessive fining in 2011. It's truly touching that now, with the knowledge that they are about to lose at least $15,000, players are still breaking out the Big Balls Dance. 
Another celebration which is steadily gaining popularity is the 'too small' gesture, when the scoring player holds their hand at about knee-height, indicating that no matter what their defender does, they will always be physically unable to stop them. Personally, I prefer Luka Doncic's version, where he yells 'fucking too small' in the thickest version of his Eastern European accent, basically directly into the on-court microphone, for which he earns himself a technical foul every single time.
Figure 2: Fred VanVleet showing the traditional Big Balls Dance
The Timberwolves are playing red cordial basketball
Minnesota has been a basketball wasteland the better part of the last decade, the place where number 1 picks go to waste the early part of their career. Things were looking bleak last year for number 1 pick Anthony Edwards, former number 1 pick Karl-Anthony Towns and former number 2 pick D'Angelo Russell when they bottomed out of the Western Conference with only 23 wins in a year when they had traded away all their draft picks. The downward slide looked like it was starting early this year when Timberwolves President of Basketball, Gerssan Rosas, was suddenly fired as allegations swirled that he was involved in a consensual affair with a member of staff – a story I'd somehow already forgotten amongst the mayhem of NBA drama that's happened since.
It's newsworthy that Minnesota aren't complete rubbish, they're above .500 for what might be the first time since Jimmy Butler left. That's an estimate based on the fact that Timberwolves stars and supposed leaders of the franchise KAT and D-Lo have often been accused of being low-effort players, guys that like to get their numbers on offence and might participate on defence. 
The presence of Anthony Edwards has supercharged the Timberwolves offence. Ant has been exuding confidence lately, putting up his first 50-ball as well as throwing down some of the most ridiculous dunks in recent memory. Whenever he doesn't have the ball, you can tell he's internally screaming at his teammates to hand it over, itching to try a different dribble move, or just plain throw himself at the rim. Unfortunately, when he does get his hands on the ball, it's his for the rest of the possession. When he scores, he looks like the next superstar talent, a guy Minnesota can build around and when he doesn't, he looks like he has no clue how to play basketball. 
Edwards is representative of the whole team in that way. They can beat Miami by 12 one game then lose to Charlotte by 18 the next;  it either works and they win well, or they get pumped. When the Timberwolves get rolling they can string together multiple possessions where D-Lo orchestrates an offence based around the dual-threat of KAT and Edwards, balanced on the defensive end by the pure physical threat of Jarred Vanderbilt snatching balls straight out of the air. Suddenly though, they can suffer from a sugar crash, cough up a million turnovers, throw up constant airballs and suddenly D-Lo has reverted to a traffic cone on defense. 
These issues are, in part, caused by the fact that Minnesota have replaced their on-court beverages with red cordial. In the middle of games, the team gets dehydrated, starts developing headaches, and all get a serious case of the crankies. The coaching staff are trying to balance the benefits of the boost of energy from cordial with the negatives of the sugar crash, let's hope they get it right. 
Fancy yourself as a bit of a writer? Got some unqualified opinion and unwavering bias you'd like to share with the world? Send it through to dyor@hellosport.com.au to be featured on the site
Check out the Latest Hello Sport Podcast episode #317 – Bandwagoners