Egg Boy is Now a Covid Protesting Anti-Vax Conspiracist
DYOR Dave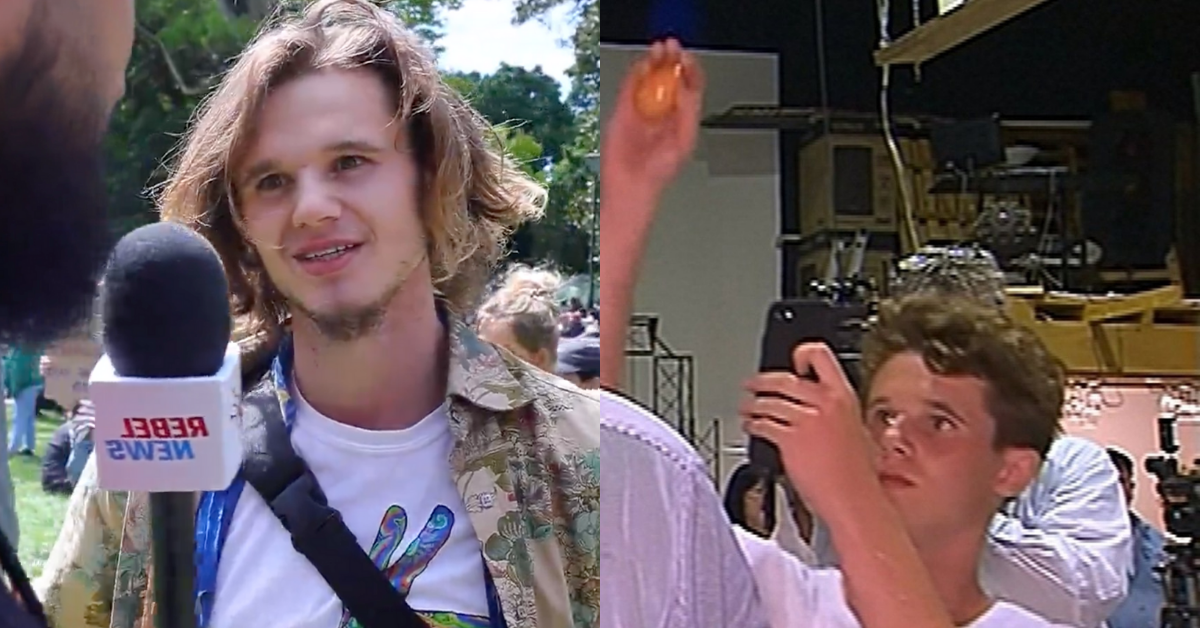 In 2019, 17-year-old Will Connolly rose to fame after he smashed an egg on the head of far-right senator Fraser Anning, who was at the time blaming the Christchurch shooting on Muslim Immigrants. Known as "Egg Boy," Will quickly became an icon of anti-fascism and anti-racism as for a tiny period of Australian history, there was hope for our youth.
Now, just over two years later and Egg Boy has completed a backflip that would rival even Matthew Mitcham's gold medal effort at the 2008 Olympics. In recent days he's been spotted at anti-vax protests fraternising with alt-right figures like Avi Yemini, all while spouting platitudes about "love and compassion."
Now 19, Connolly is no longer a squeaky-faced teenager in the throes of puberty, instead looking like he's fresh off an alternative wellness retreat in the Byron hinterlands, complete with long hair and a biblical chin-tickler. It's been a shockingly quick transition for Connolly, who just 6 months ago was helping with bushfire regeneration projects in Kangaroo island alongside Magda Szubanski.
After trending on Twitter for his surprising appearance at the protests, he was forced to clarify his standpoint in an Instagram video, in which he denied being an anti-vaxxer, saying "vaccines obviously play a big role in society… vaccines can save lives." However, he didn't actually mention whether he was vaccinated or not, instead deciding to rail against "the creation of second class citizens" out of those who refuse to get vaccinated.
Here's a tip Egg Boy, the only people creating second-class citizens are those in full health who refuse to get vaccinated, and declare themselves oppressed because of it. His video contained the same vague rhetoric prevalent throughout the anti-vax movement, attacking the media and saying people should be united instead of divided, as well as criticising the health response for not offering tips like "Have more vitamin C to boost up your immune system, get oxytocin from hugging people."
While he's still far from coming full circle and turning into a racist neo-nazi, his Instagram account features the promotion of some pretty strange alternative science, which can be a slippery slope if not navigated carefully. It's unclear whether his paradoxical straddling of anti-racism and anti-science attitudes will help other anti-vaxxers reconcile their own racist attitudes, or if he'll continue down this trajectory and end up declaring himself a "sovereign citizen" and claiming himself as an oppressed minority.
He appears to be quite taken by the idea of vibrational energy, where different emotions and thought patterns create different frequencies. Despite this concept having little to no scientific evidence, Connolly's Instagram bio details the frequencies for anxiety (369hz), self-worth (528hz) and self-love (639hz). Unfortunately, he hasn't detailed the frequencies he was subjected to that allowed him to believe this hogwash in the first place (420hz).
Fancy yourself as a bit of a writer? Got some unqualified opinion and unwavering bias you'd like to share with the world? Send it through to dyor@hellosport.com.au to be featured on the site