The Kicking Tee Dribbler Analyses Noah Lolesio's Bledisloe Bedshit
by The Kicking Tee Dribbler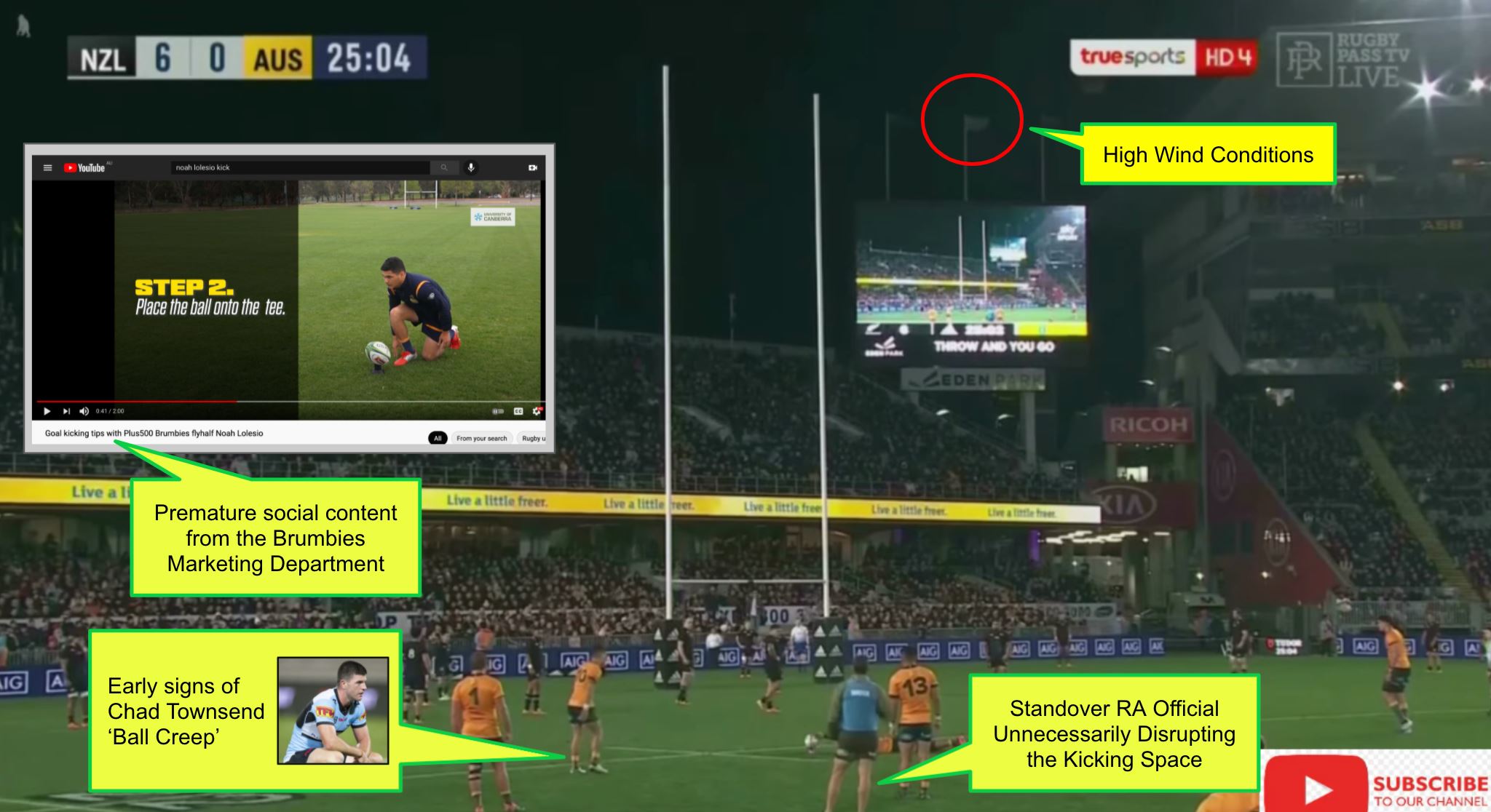 Here's a few things about Noah Lolesio and his inability to kick goals for Australia. Whilst I see potential, I also see a case of the classic Rugby Australia Schoolboy gas up. They've overinflated him before he's put runs on the board, or balls through the posts so to speak.
The fact he's already uploaded a 'Goal Kicking Tips' tutorial on YouTube whilst dishing up a 2/7 (27%) performance for the Green and Gold says a lot about Australian Rugby. Cadbury sponsorship or not, he certainly doesn't feature in my box of Cadbury Dairy Milk Favourites.
I rewatched the Bledisloe Bungle and a few notes. Lolesio has caught a case of the 'Townsend Creeps'. I wasn't aware it's so highly infectious but Noah sure loves to drag out the kick like a wet week. In his first two splays, it takes him 40 and 55 seconds respectively from 'Ball on the Tee to Post'. In comparison, in the first kick he lands (albeit right in front), Noah pumps it under 14 seconds. A highly inconsistent kicking routine.
Now amateur kickers will argue "He's right in front, he doesn't need to take the time…", but every great kicker sticks to their routine no matter the angle, the distance or the pressure. Watch Reynolds slot 11 goals for the Rabbits this weekend, his 'Tee to Post' routine is set in stone, you could set your watch to it.
Second point, weather conditions. There was a heavy north-easterly wind at Eden Park (See flags). Now in Lolesio's first few misses, he breaks the golden 'Adam Douehi Rule' of goal kicking. COMPENSATE!! The circumference of a Rugby ball is wider, it's true that a Gilbert has more girth. To use a food analogy, I liken a Steeden to a Bakers Delight Finger Bun, whilst a Gilbert is like a Croissant, it's got a bit of puff through the middle. As such it's less stable, so once the ball reaches the peak height of its crescent on Noah's first kick, the wind lifts the Gilbert right and he misses another one for the country. He needed to compensate for the weather conditions.
In conclusion, this time last year I offered up some Pro-Bono work to Rhys Hodge and RA to fix their Bledisloe kicking woes. Clearly, Hodge and the Wallabies were too busy dining corporate lunches and missing goals because I never heard back. So quite frankly as far as I'm concerned, the Wallabies can suffer through another excruciating loss this weekend (it's on 9Gem btw). I'll be tuning into the diligence and craft of Croker and Reynolds, as they collectively notch themselves up a few more rungs on the all-time Rugba Leeg point scorer list.
Hazem El Magic Forever
Premature YouTube Never
Fancy yourself as a bit of a writer? Got some unqualified opinion and unwavering bias you'd like to share with the world? Send it through to dyor@hellosport.com.au to be featured on the site