Is Scott Morrison a Turncoat? An Investigation Into the PM's Footy Teams
DYOR Dave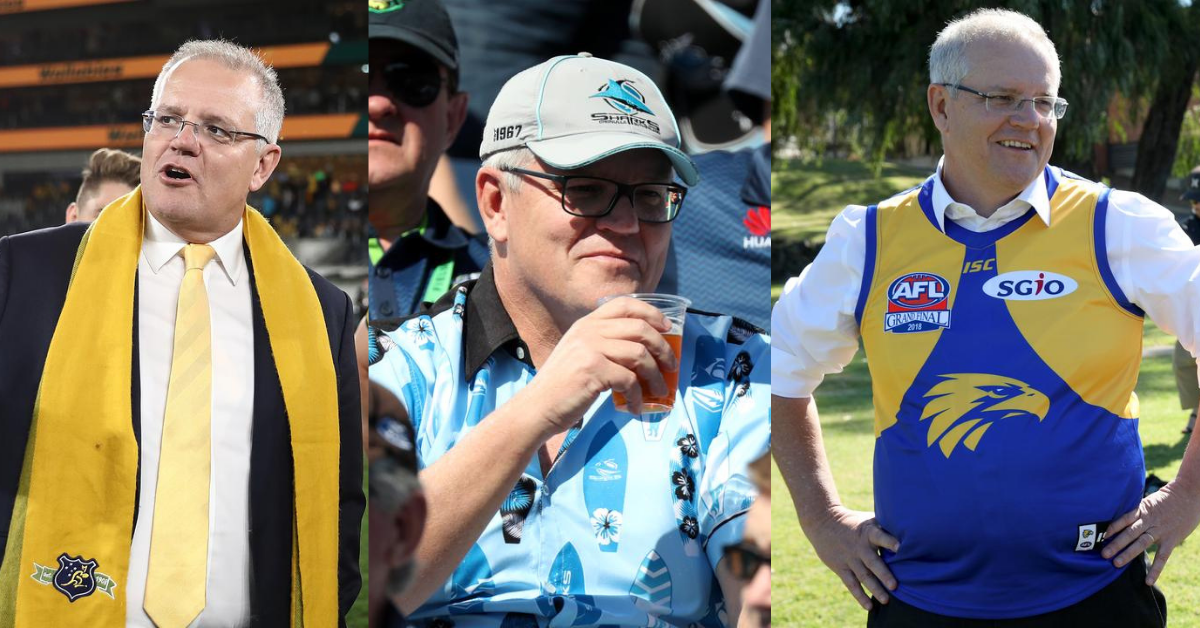 If there's one thing that our Prime Minister wants the public to know about him, it's that he loves his footy, and he loves the Cronulla Sharks. How good is Australia! But just like a lot of other statements he's made in his time as PM, this might not be the whole truth. It's my belief that the myth of Scott Morrison shitting his pants at Engadine McDonalds after the Sharks lost the grand final in 1997 has overshadowed the true nature of this turncoat, and it's time for me to reveal him for what he is.
I've long suspected that the second generation Waverley-born Morrison, who was educated in Sydney's Eastern Suburbs, probably wouldn't have had Rugby League as their primary sporting interest. My theory is that Scott Morrison adopted the Sharks as his team when he became the member for Cook in 2007, as Cronulla makes up a large portion of the electorate.
Two of his tweets from 2009 and 2012 reveal that his preferred codes Rugby Union, unsurprising for a liberal party member from the Eastern suburbs, but it does date his support for the Sharks back to 2010. This is the earliest trace of his association with the club available through google search, the next being a picture with the mascot at a fundraiser in late 2015.


In March of 2016, he became the #1 ticket holder for the Sharks, following in the footsteps of Kevin Rudd, who held the same position at the Broncos. Since 2016, barely a month goes by without Morrison parading around in a Sharks scarf or spontaneously yelling out, "How good is the footy!"  While I can't say for certain who is benefiting more from this arrangement, and I can't prove that Morrison wasn't always a Sharkies fan, it does seem like his interest in the team spiked around the same time as his political ambitions did.
This subject has come into the spotlight recently as his loyalty towards AFL teams has been questioned. In a 2019 radio interview on Melbourne's 3AW, he said: "I don't have a team… I like AFL but I'm not a phony. I am not going to go around pretending I am something I am not… I am not going to be inauthentic, what you see is what you get." However, in a series of tweets from 2009, he showed unapologetic support for the Western Bulldogs.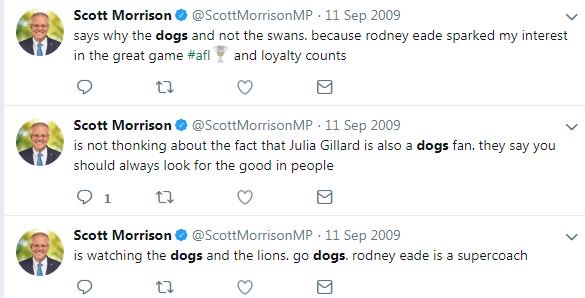 Morrison has also been pictured in a West Coast Eagles jersey, and once asked Peter Helliar on the project to find him an AFL team to support. Compared to Malcolm Turnbull, who once said in an interview that the Sydney Roosters were his favourite AFL team, Morrison does appear more knowledgable and genuine, however, just like any turncoat, you never know when he'll turn again next.
Fancy yourself as a bit of a writer? Got some unqualified opinion and unwavering bias you'd like to share with the world? Send it through to dyor@hellosport.com.au to be featured on the site