World Rugby…What is Your Deal With Us?
by The Brisbane City Behemoth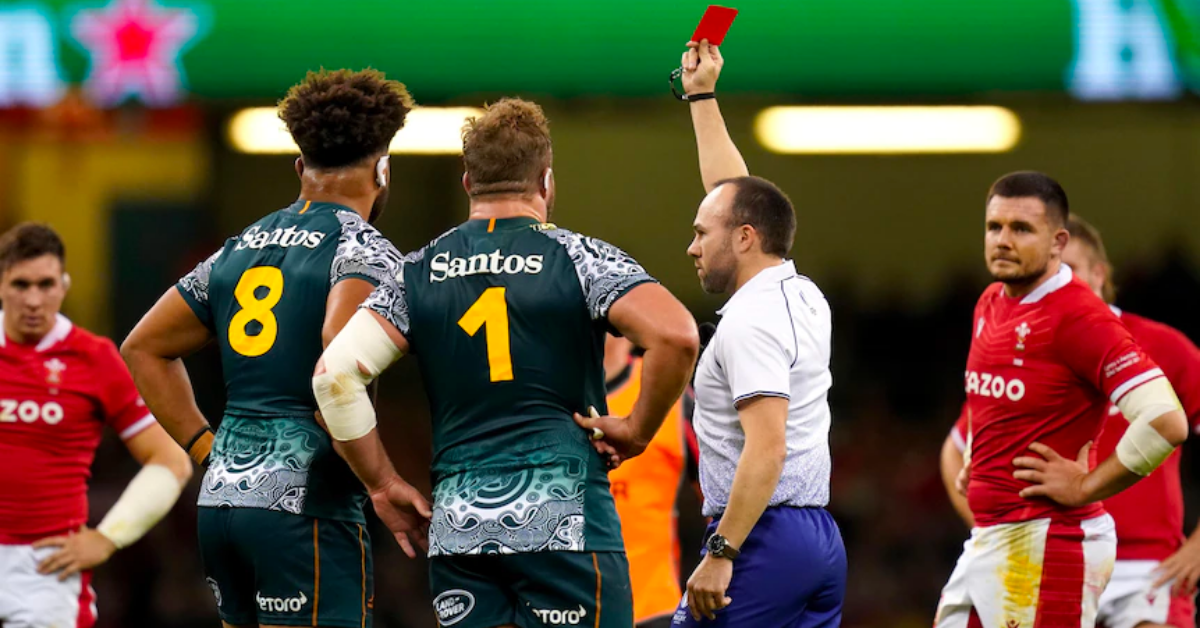 Sigh…Another late night staying up waiting for the Wallabies game and another Sunday morning going to bed as the sun is rising and the birds are chirping. Another beautiful day is dawning on our great country and it seems everything is right except on the rugby pitch. It will take hours for the anger and irritation of yet another wallabies loss filled entirely with referee shenanigans to subside and I can finally rest my weary brain. It is the same story over and over again.
It's the year 2001, and the world champion Wallabies have snaffled the pill away from the touring Lions in the twilight of the test decider. We boot it into touch and emerge 29-23 winners. It will be another twelve years before they show their ugly mugs on our shores and as world champion lion tamers who have held the Bledisloe Cup since 1998, the Wallabies soak up the atmosphere of a full Olympic Stadium in Sydney. There are thousands of touring Lions fans in attendance, millions watching all over the world and all they can do is sit there in silent envy. We truly are on top of the world. 
Yes, we had a great generation of players and an iconic coach. A lot of the things that existed then do not exist now with the wallabies. Aside from a rather odd world cup final appearance in 2015, the last decade and a bit for the Wallabies following the 2001 Lions Tour has been fairly forgettable, kiwis plunder our social media projecting on every single post, the English brag about having won eight successive tests against us and up until this year we had not won a mid-year test series since 2014. 
But I digress, the wallabies of 2021 are showing signs of life under coach Rennie. The simple fact is, people in general respect winners. The secret to it all is winning and while that is easier said than done, it is clear Dave Rennie is showing the players they can win. That is why it would not be right I was not to mention the elephant in the room, the standard of referees we get lumped with.
This is not a new problem, for years I had issues with the ways the refs consistently worked against us, particularly on spring tours. Some of the ways we get treated just do not happen to teams like the All Blacks or the English. As much as I know this happened to us under Cheika, the less said about his reign from 2016 on, the better. With the cultural shift in the wallabies and the five straight wins we had heading into Edinburgh, I assumed we would have enough command that the refs would feel obliged to not be so pedantic with the Wallabies this time. I was wrong. 
In his last game as a ref, Romain Poite was determined to take us out one more time. Whether it was waiting to penalise Hunter Paisami for an apparently excessive cleanout (if you can believe such a ruling) until we had an easy try in the corner, or ignoring Scotlands Hamish Watson coming in from the side to penalise Paisami again, it was clear that him and the TMO only cared about what we did wrong. This was further proven when they decided to take what would have been a match-winning try off the Wallabies because Allan Alaalatoa dared make contact with a Scottish player in the ruck prior. The double standards roared their ugly head when moments after captain Michael Hooper had seemingly scored, he was immediately eye gouged in a move that was as unpunished as it was unprovoked. 
Ultimately though, the Scottish used these woeful inconsistencies to prevail, and a week later, against a full-strength South African pack, and without the help of Poite, they were thoroughly dismantled. Meanwhile, a sub-strength Wallabies were undoubtedly outmatched by the English at Twickenham, but they were still penalised 18 times, including six times the TMO intervened to reverse what would have been Wallabies ball and did not take such action against England once. Even though they could just let the supremacy of the England team speak for itself, the referees just had to involve themselves that much. Are we supposed to believe that any other tier 1 nation would cop that sort of treatment?
Finally the Wales game. Perhaps the worst officiated Wallabies game I have ever seen, which says a lot. This match was so poorly managed that a clearly superior Wallabies side that by all means should have left 28-6 winners, had to accept a bitter 1 point loss. Many neutrals have surprisingly come to our defence following that disgraceful display and it is off the back of this particular atrocity that I feel vindicated enough to write this. 
I ask World Rugby simply, what is your deal? What is your problem with Australia that you actively take on such a hands-on approach to seeing us lose? How does it help rugby to take away the Michael Hooper try? Who enjoys seeing the Wallabies get incessantly micromanaged to the point they are penalised 18 times but the English get away with murder? What good does it do to sandbag the Wallabies in Cardiff when they are so clearly the better side? What are you punishing us for?
Dave Rennie made a point of saying he does not blame refs regularly, which tells me he knows how to teach accountability and discipline. It would have been high on his agenda but more importantly, it is not hard to behave yourself out there. It is clear this tough stance being taken is not a one size fits all rule, it is not something we have any control of. We can talk discipline all week but at the end of the day all that ref cares about seemingly, is taking us down a few pegs. I do not know what the issue is, maybe our unmatched quality of life in Australia is just the source of acute jealousy, but we need our legends to come out and defend our men in gold, to hold the refs accountable as the kiwis do. If that ref who red cards Rob Valetini for a HEAD CLASH knows he has to explain himself to a former Wallaby world cup winner, I guarantee you he does not make such a ludicrous decision. 
If World Rugby thinks they can bully us out of the picture, we need to simply bully back. Fewer shenanigans with the Ref will mean more reliable officiating where the fruits of our current Wallabies will ripen and when we start to win, we can have our day as World Champion Lion tamers once again.
Fancy yourself as a bit of a writer? Got some unqualified opinion and unwavering bias you'd like to share with the world? Send it through to dyor@hellosport.com.au to be featured on the site