The Heat are Inevitable: NBA Dribbler's Week Two Update
by Joseph Murphy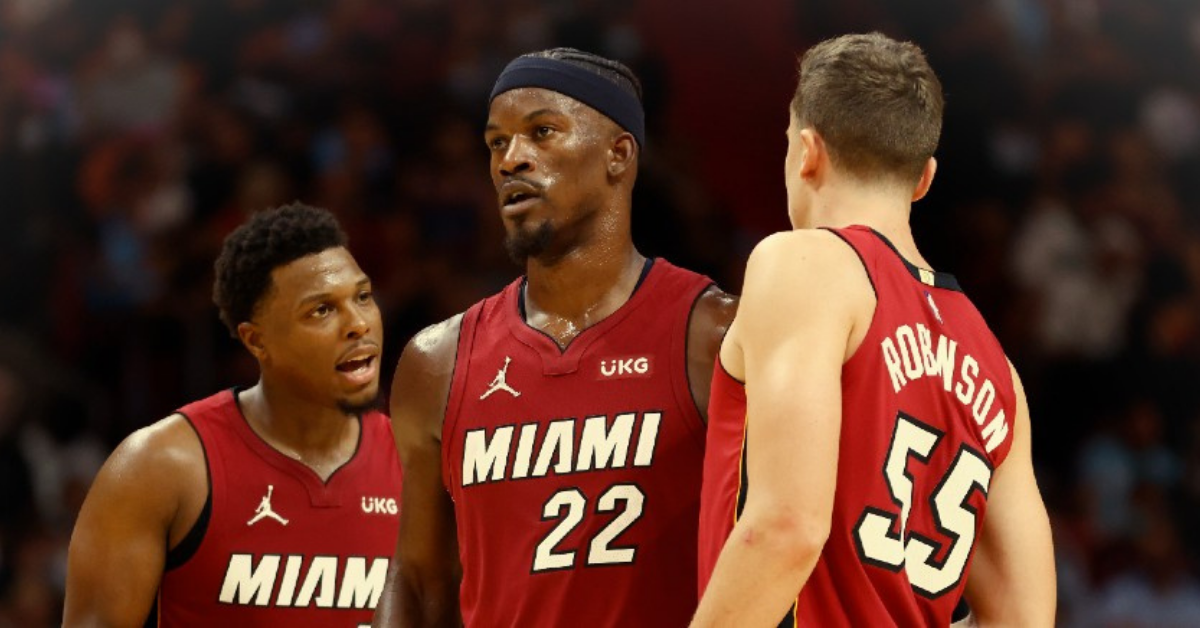 Has this ever happened to you? You start writing NBA articles for a sports podcast and, in those articles, you make some pretty strong statements about a particular team. You pump up your articles in various group chats and a bunch of your mates start reading them, many of whom are fans of that particular team. Suddenly those strong statements are starting to look like they might be slightly incorrect and you're getting daily updates on the reasons that you might be wrong in every group chat. Has this ever happened to you?
I've taken legal advice on whether I can be sued for defamation from Chicago and, until I am in receipt of that advice, will refrain from discussion of a certain bovine-based team. 
That being said, plenty else happened in the NBA this week that I can speak freely about. Balancing an NBA obsession and full-time work can be pretty tough, and I didn't watch as many games as I'd like this week but somehow managed to watch the Oklahoma City Thunder three times. Because of this decision, I can't tell you much about why the Jazz are good, or much about LeBron, but that's the beauty of the NBA, there's always a yarn ready. 
The new rules are the greatest
Having taken inspiration from the great St Peter V'landys, the NBA spent the summer tweaking its foul rules to drastically reduce the number of fouls called when an offensive player initiates contact. James Harden became so good at drawing fouls that it became a skill in and of itself: if a defender reached anywhere near the ball, he'd quickly wrap his arm around their wrist and pull upwards, throwing his head back like he'd been shot. 
The main culprits of these tactics have seen reduced scoring across the board and not just because they are taking less free throws. Last year, it was a reliable tactic to try and jump in front of defenders, stop suddenly and toss the ball at the hoop for free throws. Not only would a player get an easy attempt at two points and gain some confidence seeing the ball go through the hoop, but it was also an easy way to slow the game down. The new rules now result in a no-call and guys getting pounded into the floor.  
Because of these changes, the referees have swallowed the whistle across the court and let defences get away with far more physical play. Over the weekend, Kuzma two-hand shoved Tatum in the back directly in front of a referee and wasn't called for a foul, which was a foul, but would have been an ejection last year. 
There will be a regression back to cheaper foul calls and the smartest players in the league will figure out a new way to exploit the rules, but for now, games are faster, more physical and have less bullshit. I for one am glad that games aren't going for longer than 3 hours anymore. 
Is it really worth OKC being this bad?
I know the Thunder are meant to suck, they're a young team with plenty of cap space and have so many future first-round draft picks that they've started scouting foetuses. It's no secret that the Thunder are tanking for the best odds at a number 1 pick, but is it really worth it?
The Thunder are led by Shai Gilgeous-Alexander, their 23-year-old point guard who has proven to be one of the fastest developing players in the league. He's not quite in the truly elite group of under 25 guys with Luka and Trae, but he's just below them. Shai was traded to the Thunder in the Paul George trade after being picked at 11 by the Clippers in 2018. He's an outlier in the sense that not all guys picked 11 could lead your franchise in the way that Shai can, but he's proof that there's value in the draft outside of the number 1 pick. He's also worth a boatload of picks in any trade.
Alongside Shai is Lugentz Dort, one of the league's best individual defenders who has also become a handy scorer. Then they're complemented by this year's 6th pick, Josh Giddey, of whatever the Adelaide team is in the NBL fame. I checked out the Thunder this week to watch Giddey, and I couldn't stop watching them. Giddey came into the league with a reputation as a passer, and he has definitely lived up to that. He knows where everyone is on the court his teammates know that if they find open space he can always hit them with a sneaky pass at off-angles or through tight spaces. He's a good enough shooter to keep his defender honest and has a decent pull-up floater in the lane. 
It's clear the Thunder front office knows how to develop young talent and they've always drafted well. If they do get a number 1 pick there's a very good chance they nail it and get another franchise player. But the road to a number 1 pick is paved with many, many losses. 
Obviously, I want to see Giddey and Shai play meaningful basketball, many of Giddey's great passes are going to guys with cement hands. The Thunder have the money and the draft capital to completely revamp their roster and capitalise on the development of their leading players. This season, they might lose 70 games. Are the guys who are actually good now willing to stick around for many more of those seasons? 
The Heat are absolutely terrifying
This team was never going to suck, but I had thought that being a veteran team, they would use the regular season as an extended training session and not play their cards until the playoffs. What I forgot is that we could hit net zero tomorrow if only we could harness the competitive energy of Pat Riley and Jimmy Butler. 
The Heat have come out swinging this season and are currently on pace to have the best defence of all time. Jimmy Butler is on another level right now. He seems to move as fast as the ball at times, running alongside passes to snatch them out of the air. Oh and he's also playing with Bam Adebayo and PJ Tucker, another two freak defenders. 
On the other end of the court, Tyler Herro seems to have gotten over his second-year slump and moved on from the curse placed on him by Jack Harlow. It's the Mo Bamba rule – any song named after an NBA player will inevitably perform better than the player itself. Herro has been an absolute flamethrower from deep this year and has looked incredible coming in as Miami's 6th man to torch second units. 
Spending too much time in the bubble seemed to ruin most teams and Miami had some bad luck with injuries and covid last year. High-level defence is sustainable when your team is full of psychopaths, and Miami is overflowing with them. The offence may dip off but Miami are going to be an absolute pain in the arse for the rest of the league. 
Boston are starting to fall apart
It's early, and Boston are 2-5 after two close double-overtime losses and an overtime win against Charlotte. If one or two shots go differently they could be 4-3 and there would be no cause for concern. I was pretty high on Boston coming into this season and thought they would be a decent chance at finally making it to the Eastern Conference Finals, but those chances are diminishing. Boston can barely beat anyone in a regular 48-minute game. 
This could just be a rough start, Jaylen Brown had covid just before the season, it's always tough for a new coach, etc. Except Marcus Smart just openly called out Tatum and Brown, saying "They don't want to pass the ball. That's something that they're going to learn. They're still learning". 
These kinds of comments come, usually from superstar players, with the subtext of 'trade him or trade me'. If Smart is saying this to the media, what is he saying in the locker room? Marcus Smart is supposed to be one of the veteran leaders of this team. This is his 8th year as a Celtic and he's their longest tenured player. So it says a lot when he openly criticises Brown and Tatum only 7 games in. I think it might be less of a case that two players who have been in the league for more than 4 years know how to pass and more of a case that everyone hates each other.
I wouldn't say to ring the alarm just yet, but I think it would be a wise decision to become aware of where the alarm is located and how quickly you can get there. Like you're in an airplane, count the lights between you and the exit row, just in case. 
As we head into another week, we're starting to see the separation of powers as the top teams set themselves apart. Hopefully I won't get caught up watching the bottom of the league again next week, but then again, I might spend all of next week watching Cole Anthony running the pick and roll.
Fancy yourself as a bit of a writer? Got some unqualified opinion and unwavering bias you'd like to share with the world? Send it through to dyor@hellosport.com.au to be featured on the site